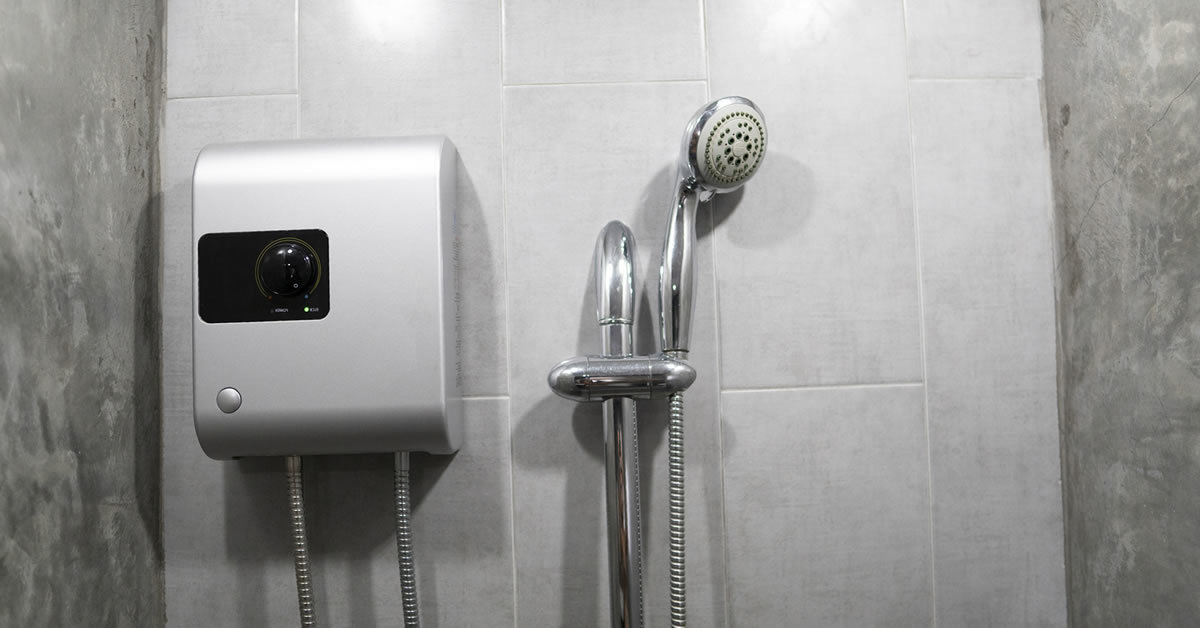 Although Malaysia is a tropical country, there has been a steady increase in demand for water heaters. That is mainly due to the fact that water heaters easily increase a property's overall value. Since there are many expats living in Malaysia, water heaters are now considered to be an essential element of the shower area in residential properties and condominiums.
A number of different brands have been introduced into the market, but it is critical to choose one that has been built to last, particularly if you will be using it on leased property.
Table of Content
Best Water Heaters Comparison Table

Things to Consider When Purchasing an Electric Water Heater
Water Heater with Pump VS without Pump
FAQs
Here is the quick comparison of the best water heaters (Scroll to right for more):
15 best water heaters in Malaysia (Harga Terbaik)
1. Panasonic DH-3LS1MW Instant Shower Heater Without Pump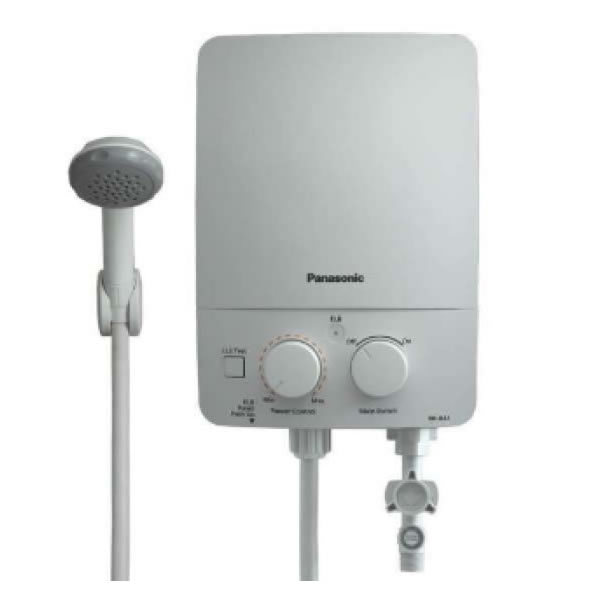 Best water heaters with user-friendly function
If you are installing a water heater at home for the first time, this Panasonic water heater is your fool-proof choice. It has all the safety features that are being marketed by more expensive brands and models, yet you can get this for less. It's best for family use since settings and operations are pretty straightforward.
Pros:
Low maintenance tankless water heaters, perfect for home use with a longer lifespan.
Great water pressure, despite being a non-pump heater
Accessible Panasonic warranty and service centre in Malaysia
Very easy to install
Cons:
This model does not offer any adjustment to water through the showerhead
You need to buy your hose and AC cable to connect the heater to your water source
When purchasing any electronic product, one of the major considerations is how accessible their service centres are to where you are located in the country. Panasonic definitely is one of the best water heaters for you. You can purchase a Panasonic water heater right here.
Check prices on Shopee
Check prices on Lazada
2. Midea MWH-38Q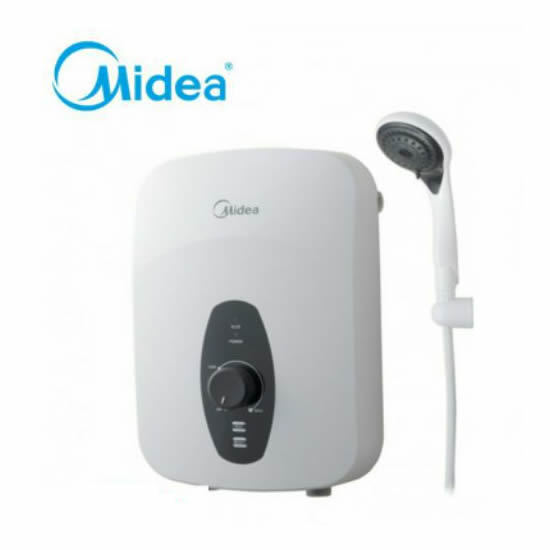 Best value for money
When it comes to budget-friendly yet high-quality home appliances and electronics, Midea is one of the top brands you need to look into. In recent years, they have grown popular for the great reviews of this water heater including this model. This is one of the most affordable heaters that you will find in the market today without any compromise on features.
Pros:
Easy to install and use. Designed to be family-friendly
Huge showerhead with options for adjusting water volume
Amazingly quiet operating water heaters
Since it is affordable, you can buy multiple products to be installed in different shower areas around your home
Cons:
The only downside we observed with this heater is that it can take a long time to achieve really high temperature. It gets warm, but if you are the type who can tolerate a higher temperature, it may take at least a few minutes to achieve that.
No pump is required with this Midea water heater. That means it is easy to install, and there is less intrusion on your bathroom's overall structure as well. You can find it at the best price right here.
Check prices on Shopee
Check prices on Lazada
3. Joven Instant – 880 Series Pump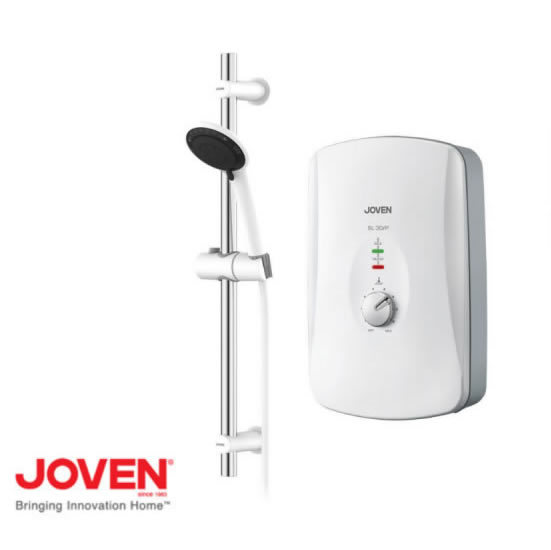 Best for its energy-efficiency
With a DC Inverter Pump, this new version of the Joven 880P is made to be even more energy-efficient – that's both in terms of water and electricity consumption. For your peace of mind, this water heater comes with a surge protector, along with the built-in EELs.
Pros:
Easy installation. The quarter-turn ceramic valve also makes it easier to set to your desired temperature.
Delivers hot shower water faster than other models within its price range.
Comes with a water inverter pump, perfect for high-rise properties.
Low noise heater, making it ideal for shower area inside bedrooms.
Cons:
The pre-installed pump may take some time to work, depending on the location of your water heater.
May require plumbing expertise to get the most out of the DC pump feature.
Enjoy a comfortable and pleasant shower without getting burned due to inconsistent water temperatures. Purchase a Joven Water Heater at Lazada or Shopee mall.
Check prices on Shopee
Check prices on Lazada
4. Toshiba Instant Shower DSK38S5MW (Pump Not Included)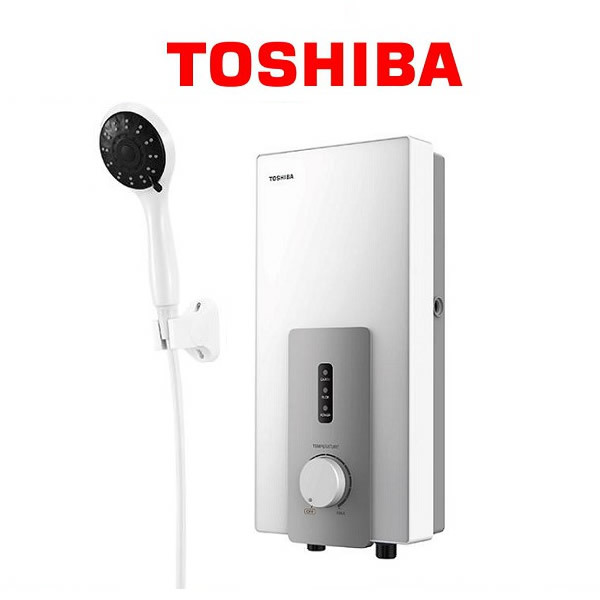 Best water heather for anti-scalding feature
Toshiba has introduced Whirl Water Flow technology, which works in two ways. One is to ensure a more efficient heating mechanism of the product, and two is to stabilize the water temperature. In fact, this instant water heater will auto shut off if it reaches 55 degrees Celsius.
We especially love the various shower models that make showering a very relaxing experience and offers a stable shower temperature as well. These Toshiba instant water heaters definitely provide both safety and comfort. Also, it consumes less energy and heats quickly.
Pros:
You can simply turn it on to use the water heater right after installation.
Although it does not have a pump, this is compatible with almost any type of centralized pump system if you already have this in your house or property
Effective anti-scalding feature. You can just enjoy a long hot shower without any sudden spike in water temperature.
Great warranty coverage in Malaysia
Cons:
It can be quite tricky to control or adjust the water.
The unit size is not small and you need to make sure you have sufficient space to install it.
Requires Earth connection to work, this can be a hassle for first-time users of the water heater.
Get the product here online.
Check prices on Shopee
Check prices on Lazada
5. Midea MWH38P3 3.8kW Inverter DC Pump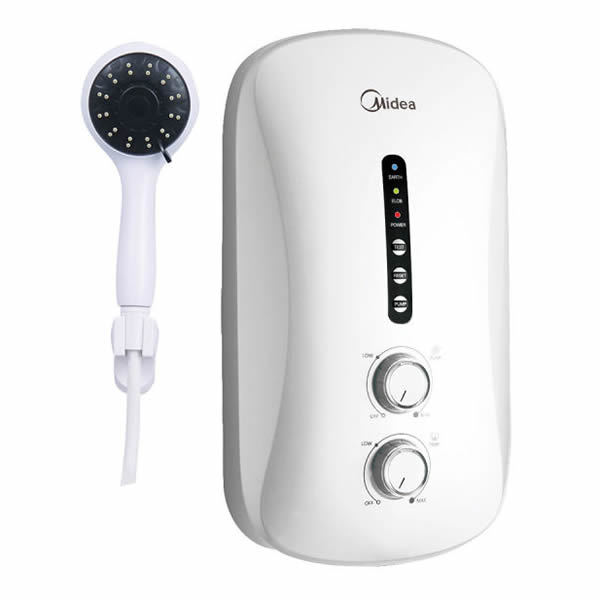 Best shower spray options
Water heaters from Midea need to get more praise for how great their shower quality is. It is one of the most affordable types of water heater that offers different shower sprays for a totally relaxing shower experience. Some shower spray types to choose from are: soothe, jumbo, and massage. It achieves all this while keeping the shower temperature stable.
Pros:
Leak protection allows you to address any problem with your instant water heater right away
Compact size, perfect for smaller bathrooms
It comes with a quiet operating pump
It also has a Whirl Flow technology to protect you from scalding while providing consistently hot water
Cons:
Definitely not for those who cannot tolerate moderate water flow.
Takes a longer time to achieve the maximum water temperature
Midea offers all of the features that are necessary for the water heaters to have, yet at a more affordable price. You can get the best price on Midea water heaters here.
Check prices on Shopee
Check prices on Lazada
6. Panasonic DH-3RP1 Standard R Series Jet Pump Home Shower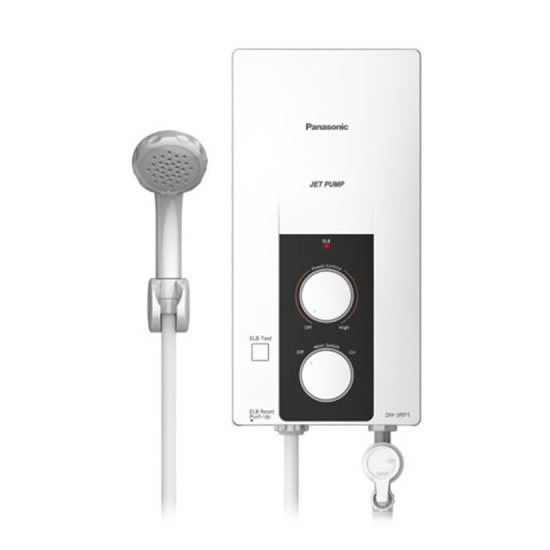 Best for its water flow and quiet operation
If you would like your electronic appliances to have better energy efficiency, Panasonic has many different available options, which includes this Jet Pump Home shower. Given all of its safety features, it is best for families who have children.
The built-in pump in these water heaters addresses the problems with low water pressure. You get to enjoy strong shower flow with this water heater, but at the same time, it lives up to its promise of a low-noise operation. Like any other Panasonic water heater, this is also a family-friendly model.
Pros:
Safe to use around kids and the elderly. Easy to use with adjustable temperature setting.
Great longevity. Although we have only tried this for a couple of days, several user testimonies say that this heater can last for more than 5 yrs without any major issues.
Low-noise pump, but strong shower flow.
Its universal design makes it easy to install and maintain.
An energy-efficient water heater.
Cons:
A bit pricey compared to other Panasonic water heaters.
No option for cold temperature water.
Require sufficient space to install.
This Panasonic water heater series is water filter ready as well if you decide to install one at a later date. This heater can be ordered at its promo price online here.
Check prices on Shopee
Check prices on Lazada
7. Alpha Shower LH-5000EP and Booster Turbo PUMP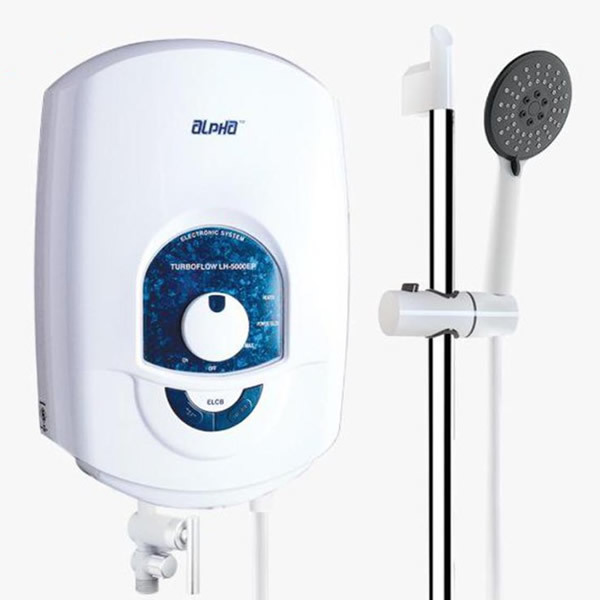 For new water heater users
Alpha is another brand we can highly recommend for first time users of the tankless water heater. They have been a renowned brand for water heaters, and have perfected all the necessary safety features including anti-electric shocks and double relay ELSD.
Pros:
Great customer support both internationally and within Malaysia
Really easy to install and maintain
Comes with its own AC motor pump so you can enjoy more consistent water flow even you have a low-pressure water supply
Cons:
Motor pump can be a bit noisy
Adjustable temperature setting and water control display could also use a bit of improvement
The Booster turbo provides a solution for the need for more reliable water and a more convenient and faster shower experience. You can purchase an Alpha water heater here online here.
Check prices on Shopee
Check prices on Lazada
8. Joven Heater SA8E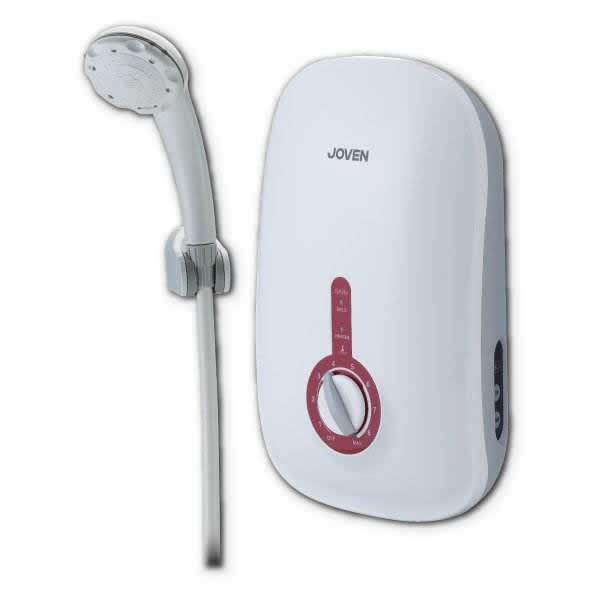 Best compact water heater
Don't like those bulky storage tank water heaters? This SA8E gives you compact and aesthetic water heaters that don't fall short in terms of features, too. The adjustable wall bracket allows for easier installation of the water heater, as well. Joven has likewise created all their water heaters in accordance with international standards so you are assured of the quality of their products.
Pros:
Mid-priced water heaters from a reputable brand in this industry come with IP25 Splash protection.
Works well with small spaces, a great choice for those doing tiny house projects
It has a built-in filter to ensure water quality wherever you are in Malaysia
Simply turn it on and choose from different shower spray patterns
Cons:
In some cases, this can take some time to achieve higher levels of water temperature.
No pump so those living in areas with low water pressure may encounter issues
There are also five different spray patterns to choose from for the optimal showering experience. Safety is also guaranteed since the water heater is IEC 60529 certified. You can get one here.
Check prices on Shopee
Check prices on Lazada
9. Toshiba Rain Shower DSK38ES3MB-RS Instant Heater DC Pump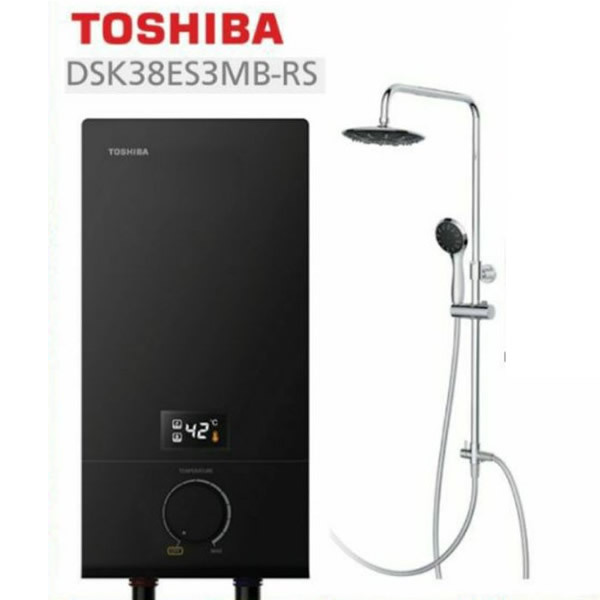 Best water heater with pump and rain shower
Looking for an elegant upgrade to your shower area? Not happy with your bulky storage-tank water heater? It's time to upgrade to these rain shower instant water heaters for that hotel-like experience at home. Even the entire packaging of the water heater already spells elegance, especially with this all-black variation. It's an upgrade, but it does not mean a surge in electrical and water bills. This was designed to be energy efficient and come with digital temperature control which is user-friendly.
Pros:
Ready to use right after installation.
Convenient digital temperature control, and allows you to more accurately select your preferred temperature.
Energy-efficient water heater with motor pump for low water pressure, and operates with minimal noise
Cons:
To enjoy stronger shower flow, you may need to connect this to a more powerful water pump
The settings for temperature and shower spray pattern can be confusing at first few uses
We find it very convenient to have this type of water heater that comes with so many different features but still consumes significantly less energy. The Toshiba rain shower can be purchased here.
Check prices on Shopee
Check prices on Lazada
10. Panasonic N Series DH-3NDP1MS Instant Heater and Shower (Jet Pump)
Best for its strong water flow
After scouting so many water heaters, a common issue that frustrates us is the consistency in shower flow. This is even more crucial in Malaysia, where many of us are moving into vertical housing. Fortunately, Panasonic has stepped up with their water heaters releases with this jet pump-powered N series. It guarantees continuous flow and stable water temperature, even when installed in high-rise apartments.
Pros:
The digital display on the heater is a great upgrade from older Panasonic models
Powerful pump system for that much needed stronger flow of water
It comes with an anti-bacteria shower head and a precise thermal cut out function.
Elegant and durable design
Cons:
The shower hose can be stiff during the first few months of usage.
Power/control buttons are difficult to push, especially with your hands wet already
The pumping system on this water heater features a quiet operation, which makes it the perfect choice for those with babies in their homes. Panasonic water heaters can be purchased here.
Check prices on Shopee
Check prices on Lazada
11. Joven Rain Shower i90PRS Heater Inverter Pump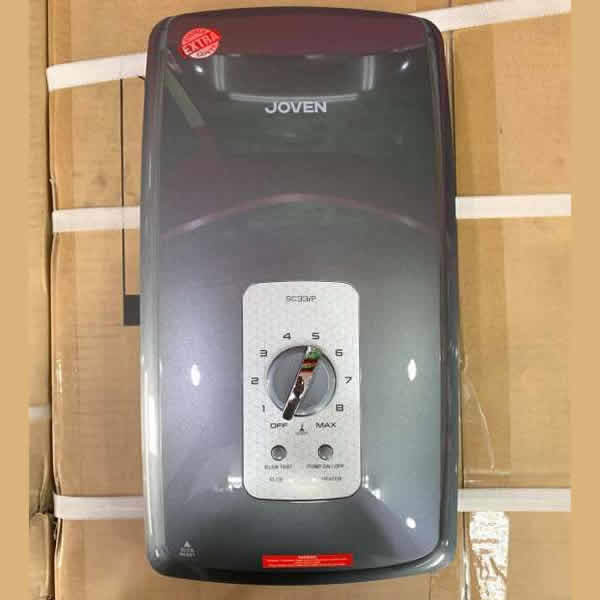 Best contemporary design
Tired of the old white/black heaters? Joven has just released one of their most modern-looking tankless water heater to date. But beyond its look, this is a promising water heater for large households and even rental spaces given its strong shower water flow and energy efficiency.
This new inverter pump offers silent operation. The rain shower head also provides a very relaxing shower experience.
Pros:
Installation instructions are pretty straightforward. This is a no-fuss installation water heater, like most Joven products
Powerful pump, but silent operation.
Long-lasting finish. The outer design is made from 2k spray paint so it is guaranteed to last despite the humid condition in your shower area.
Cons:
You may need to connect this to another pump if you intend to use it in areas where people may be using water all at the same time.
For a modern design, it still uses knob control for temperature settings.
Joven has definitely perfected the accuracy of its water heaters and temperature controls. That is why we love their products. This water heater can be purchased here.
Check prices on Shopee
Check prices on Lazada
12. Panasonic N Series DH-3NS2MS Instant Heater/ Shower (Non-Jet Pump)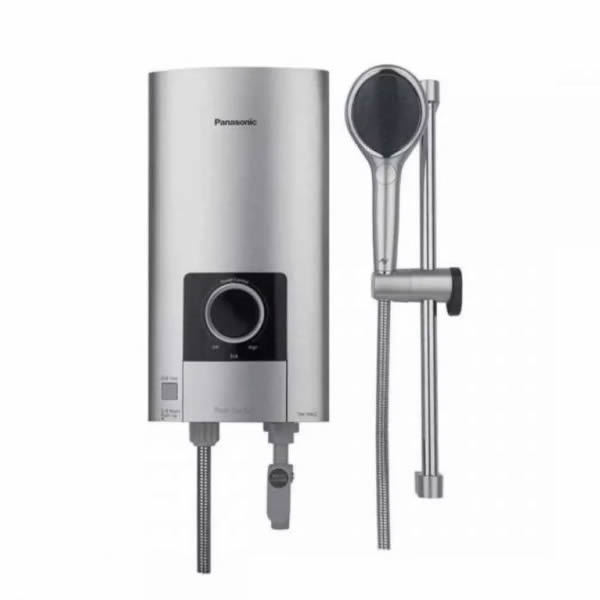 Best for residential use
The lack of a jet pump should not be an issue with this model if you will be using the water heater for residential purposes only. The flow of water is already decent enough to give you a refreshing shower experience, add to that the three shower spray patterns to choose from. This is already a great deal, given that you are also buying a Panasonic product known for its decade-long durability.
Pros:
It comes with a new showerhead, which addresses the issues of lack of flexibility, it is built with antibacterial material, too
Readily accessible customer support here in Malaysia
One of the best tankless water heaters with sleek and elegant design & digital display
It comes with a precise thermal cut out feature
Cons:
For some reason, water takes longer to achieve a set temperature with this model
Buttons are also hard to push, especially once your hands are already wet
The N series offers sleek packaging and a luxurious shower experience, so this is a great choice if you are searching for something to give your bathroom that special touch. It can be purchased here.
Check prices on Shopee
Check prices on Lazada
13. Alpha Smart 18I Plus Inverter and DC Pump Rain Shower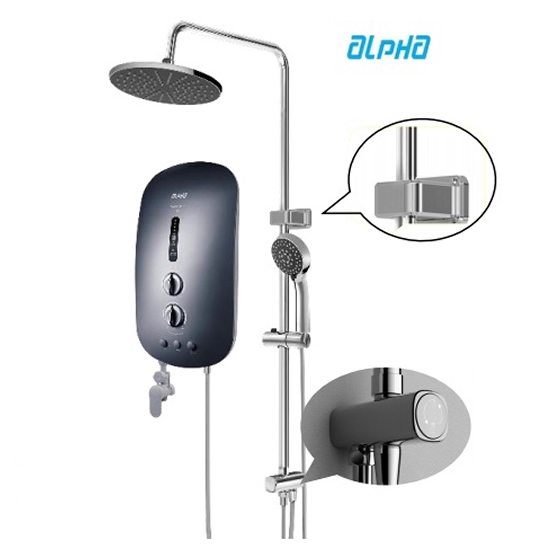 Best for hotels and rental properties
Want to impress your guests with your home features? This Alpha water heater will help you make a great impression. It offers great value for money as it is already both rain and hand shower. It comes in an elegant black design to complement every bathroom interior.
Pros:
It has light indicators to help guarantee your safety while using water heaters
Decent water DC pump, especially in low-density properties
The interior is made from nylon glass fibre, further guaranteeing your safety while using water heaters
Part of the SMART Alpha Series, that allows for more accurate monitoring of the performance of your water heater
Cons:
Control knobs could be further improved to help us set temperature more accurately.
Water pressure can be greatly affected by simultaneous usage of water sources
This water heater's Smart technology basic provides peace of mind to users that they can shower every time with the utmost safety. Buy this Alpha rain shower here.
Check prices on Shopee
Check prices on Lazada
14. Rubine Rain Shower RWH-SSE851D-RCB c/w Silent DC Inverter Pump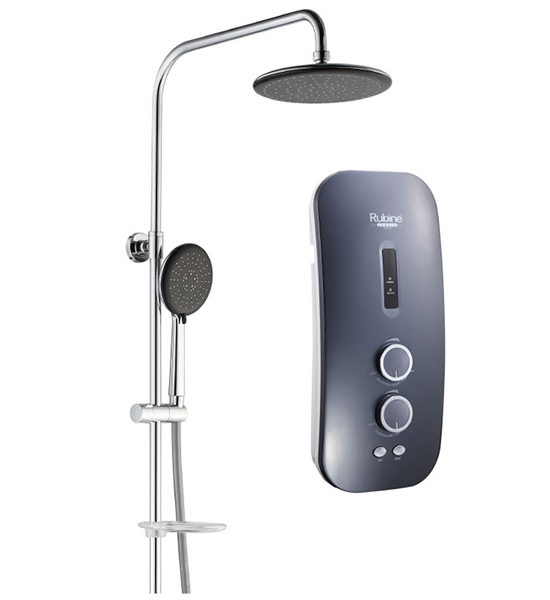 Best for home installation
For a rain shower, Rubine has surprisingly made it rather easy to install this product. In fact, with the help of the manual, you can install this in your shower area DIY style and even try and test it right away. All safety features are also present in this rain and hand shower package including the Dpdt protection system.
Pros:
Great shower head quality. The hand shower is easy and light enough to use
An elegant look will easily upgrade your shower area
Offers up to 7 years warranty for their heating element
DC Pump with eco-friendly inverter
Cons:
Average water pressure, but can be easily addressed by using a different water pump
The inverter pump still makes noise, although this can be easily overpowered by the sound of water once you actually start using the shower
These water heaters offer a very luxurious shower experience. It comes with both a rain shower and a handheld head. Get the best price here.
Check prices on Shopee
Check prices on Lazada
15. Pensonic PWH968EP Heater And Pump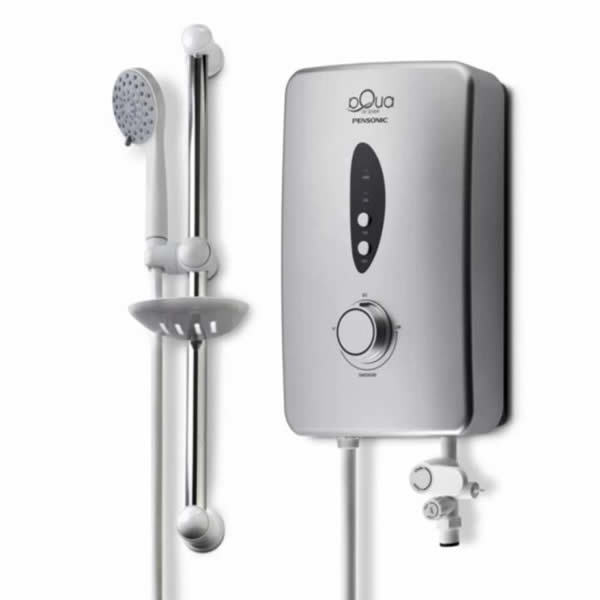 Best for low and high-pressure areas
Whether you live in a bungalow or in a high-rise apartment, you will have decent water flow with Pensonic. This is a great, affordable choice for home or personal use. You get to enjoy different spray patterns and great temperature control. AC Pump helps in providing you sufficient water flow and stable temperature when the water pressure is low.
Pros:
Really silent water pump, you won't hear it when you walk out of the bathroom
Anti-leak plastic tank is a welcome feature, it gives a sense of safety while using the electric water heater
Comes with a filter already, making it even more worth it for its price
Cons:
Achieving your desired temperature can be a hit and miss especially in areas where water pressure is not consistent.
Buying these water heaters from Pensonic gives you a complimentary soap tray as well. It is SIRIM-approved, which makes it suitable for properties in Malaysian. Get the best price here.
Check prices on Shopee
Check prices on Lazada
Top Water Heater Brands in Malaysia
Panasonic
Panasonic water heater is a favourite Malaysian brand. It was the first company to introduce a tankless water heater system in Malaysia, widely adopted as a more efficient and environmentally friendly system. Panasonic has been coming with various innovations from time to time, aiming to provide consumers with a pleasant bathing experience and save energy.
Midea
Midea is a Chinese water heater brand gaining popularity among Malaysian consumers. It is a branch of the Midea Group, a Fortune Global 500 company and one of China's top ten largest white appliances brands and top 50 consumer electronics companies. In terms of sales volume, it ranks 4th in the world.
Joven
In Malaysia, people usually use this brand for replacement purposes or to upgrade their current system due to its extensive usage and affordable prices. Over 90% of Joven water heaters exported out of China are used by Malaysians and distributed all over the country. It also enjoys a good reputation around ASEAN region countries with positive feedback from customers on heat output and durability.
Toshiba
The Toshiba brand is the epitome of affordability and reliability for most consumers. It does not have a wide range of products, but it has been catering to consumers from all walks of life for decades. Toshiba water heaters are also been commonly used in many homes for years because they are cheap and reliable.
Alpha & Pensonic
These brands are easily distinguishable since they sell only tankless systems despite offering different wattage capacities at varied prices. Alpha is known to be affordable, while Pensonic can be more pricey due to better features and designs. However, both remain popular among Malaysian consumers due to their good customer service, product quality and warranty coverage.
Things to Consider When Purchasing an Electric Heater
Water heaters definitely add a lot of convenience and comfort to your showering experience. However, not all of the above water heaters might work for your lifestyle and space. The installation area is an important factor to consider.
You need to have enough space that is close to outlets as well as other inputs. If you live in a high-rise building you also need to ask whether or not the water heater has a pressure valve of its own. Water heaters that have a 6 bars rating or higher are ideal for elevated spaces such as condominiums. It is important to choose the right one according to your space.
Heater with Pump VS without Pump
Should you get a water heater with a pump or without a pump? This very much depends on the water pressure at your house. If you have a water booster for house, you can choose a water heater without a pump as it makes not many differences. The price is lower compared with those with the pump feature.
However, if you constantly have low water pressure inside your house, it is recommended to get a water heater with pump features so that you have a more relaxed and comfortable shower experience.
Final Thought
If you are in the market for a water heater, we hope that our list of 15 best water heaters in Malaysia will help make your decision easier. We have tried to include various types and price points so that there is something for everyone.
All of the water heaters on our list have been well-reviewed by consumers and come with a warranty, so you can be sure that you are getting a quality product. Let us know in the comments which one you decide to go with – or if you have any other questions about choosing a water heater!
FAQs
What are Popular Brand in Malaysia?
The popular brands in Malaysia include Panasonic, Alpha, and Joven.
What is the purpose of a heater? 🤔
Water heaters are used for cooking, cleaning, and shower. It warms the water that is potable.
How much is a water heater?
A water heater usually costs about 100 – 500 RM, depending on the type and model.
What are types of water heater?
There are two types of water heaters. Storage water heaters or tank water heaters require tank and instant water heaters that heat water on-demand
Click here for other home appliances related articles.
Latest posts by Alice Yeoh
(see all)
This article was brought to you by BestAdvisor.my
Disclaimer: This is the opinion of the writer or publication. We only recommend products or services that we have tested and tried ourselves or have done in-depth research with positive external reviews and find them to be useful for everyone. The products/services shown are available upon the publication date. The availability may change from time to time. If some of them are not available, please email us at [email protected]. Thank you!
Last Updated on