Ceiling fans are a great addition to any home. Not only are there numerous styles and models to choose from, but they can also save on monthly power bills by reducing reliance on other air conditioning systems. The various models and sizes also allow ceiling fans to be fitted in any room in the home – and there are models which are also suited for outdoor use. The key to finding the right ceiling fan for your home is to ensure that it is the right size for the room where it will be used – and that the power rating (how many cubic feet of air it can move) is well suited for the family's unique needs.
However there is another aspect to ensuring that ceiling fans deliver on what they promise when it comes to cooling the room – and this is health and safety. Installing a ceiling fan correctly is absolutely pivotal to their correct functioning and ensuring that they are not responsible for injury to members of the family – and also do not damage other assets in the home should they fail.
There are several factors that should be taken into account when installing ceiling fans.
The first of these is to make sure that the ceiling fan is installed at the correct distance from the floor. The minimum distance from the floor for all ceiling fans should be at least 7 feet. however, in order to be safe, most manufacturers will recommend that the ceiling fand have a minimum clearance of around 8 – 10 feet from the floor.
If this is not possible the homeowner should evaluate the installation of ceiling fans that sit flush to the ceiling. there are numerous models of these available. The distance of the fan from any obstruction should also be taken into account. A ceiling fan should be at least 18 inches from doors and walls. Most ceiling fans do move laterally during operation and locating them this distance is essential. That entering or leaving the room may also be carrying goods that can impact the ceiling fan – entering a room without having at least 18 inches to adjust any items can be extremely dangerous.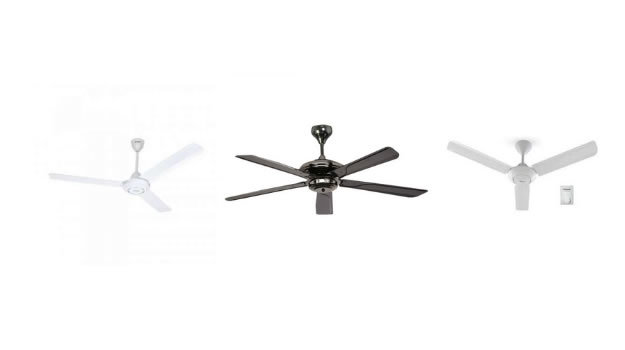 Ceiling fans can generate significant amounts of force while they are in operation. When installing a ceiling fan care should be taken to insure that it is securely fitted to the ceiling. A purpose-designed junction box is essential. Heavier ceiling fans should be attached to a ceiling joist and a fan brace box should be used. Many homeowners may be tempted to simply install a ceiling fan using an existing legacy light fixture fitting. this can be a mistake when care is not taken to ensure that the appropriate fastening mechanisms are in place.
If the fan is assembled by the homeowner it is essential that care be taken to ensure that the fan blades are not misaligned. This can cause oscillation which puts even more strain on the ceiling fitting. this is a common problem that can cause the fan to dislodge from the ceiling with disastrous consequences. Make sure that all fastenings such as screws have been tightened prior to installing and operating the ceiling fan.
It should always be borne in mind that a ceiling fand generates significant force – and that it is an electrical appliance. If the homeowner is not an expert at installing electrical appliances it is always preferable to call in a professional. Not only will the work be guaranteed – but it will significantly reduce the possibility of injury during the installation process – and electrical fires when the ceiling fan is in operation. If a DIY installation is undertaken it is essential that a second person is on hand to assist in mounting the fixture. Always remember to cut power to the circuit when installing the fan.
When all is said and done a properly installed ceiling fan can be a fantastic investment. It cuts down on power bills (newer DC fans reduce the bills even more) and is a stylish addition to the home. An improperly installed ceiling fan can cause significant damage and serious injury. If in doubt call in a qualified electrician.
Latest posts by Aaron Tan
(see all)