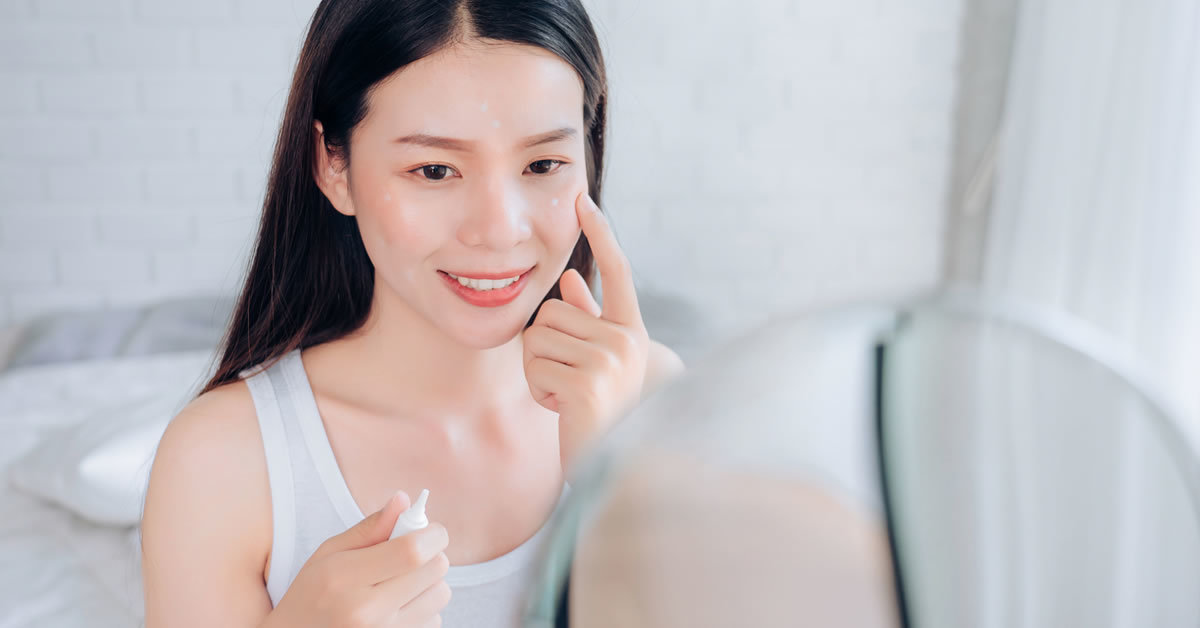 In case it has not been emphasized enough, you need to wear your sunscreen every single day. No buts and ifs, and it needs to be applied all over your face, not just your T-zones, please.
One of the main concerns with sunscreen though, is how it makes skin feel a bit clogged. For those with oily skin, this poses an even worse problem as the sun protection may however result in more shine.
We've made a list of the best sunscreens below that gives you full protection but sans that greasy feel. That means no more excuses to wear it even if you have oily skin.
10Best Sunscreens for Oily Skin in Malaysia
1. 3W Clinic Intensive UV Sunblock Cream SPF50+ PA++++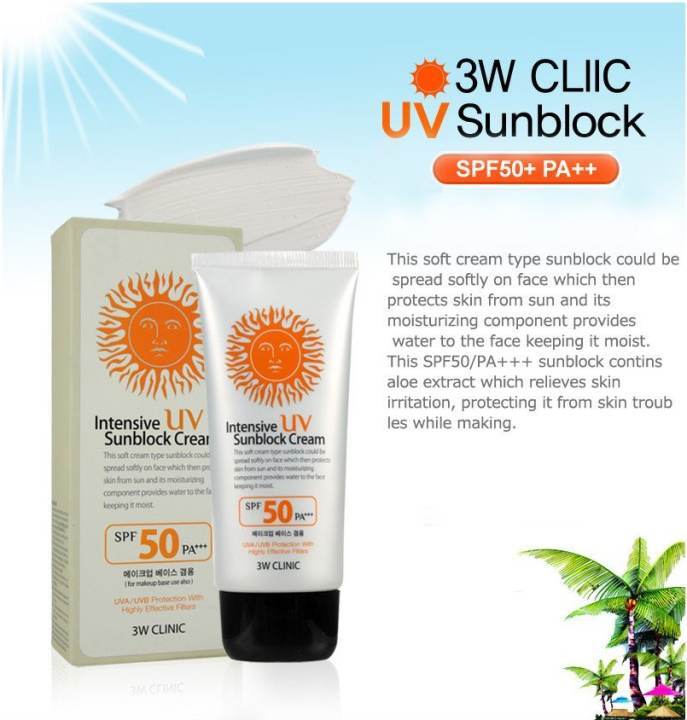 Best budget-friendly sunblock
A dermatologist-recommended product, this is an alcohol-free sunscreen that contains zinc oxide and titanium dioxide to protect against both UVA and UVB rays. The purifying ingredients (like aloe vera extract) also offer a more soothing feel than regular sunblocks. This can be used on both face and body as it has great sun protection with its SPF50+ PA++++ rating but also light texture which glides onto the skin seamlessly. It feels light enough, so re-applying will be not an issue, either.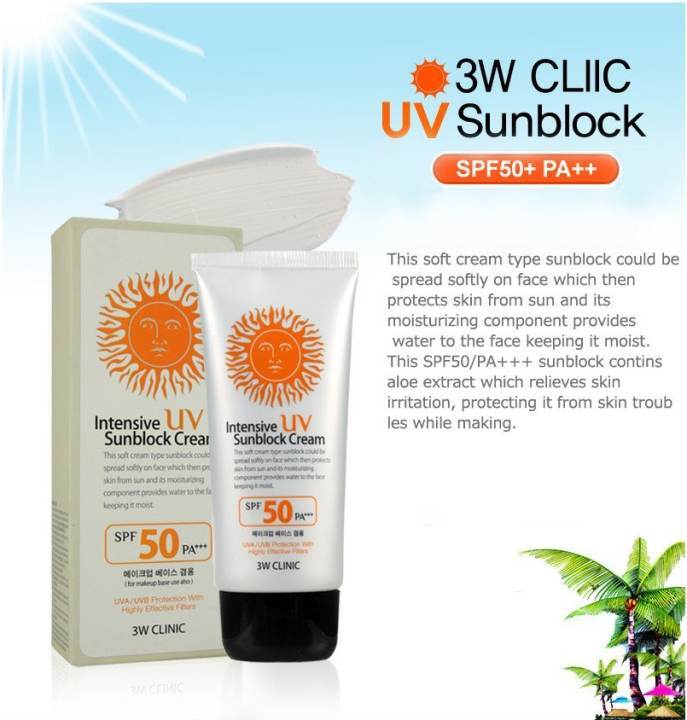 Why we love it:
One of the oldest sunscreen brands in Asia that has great sun protection.
It is affordable and accessible so you won't have a problem on restocking this.
Can also be used as body sunblock
Best for those with fairer skin
Concerns:
While it definitely does not feel greasy, it can leave visible white cast when applied with two or more layers.
Check prices on Lazada
Check prices on Shopee
2. Eucerin Oil Control Sun Gel-Cream SPF50+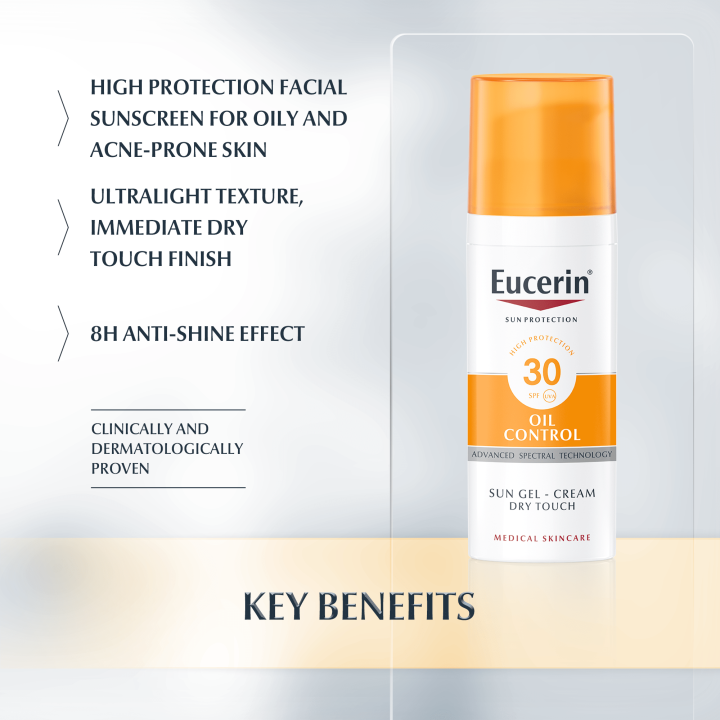 Best shine-free sunscreen
If white cast is a concern for your skin tone, then we are confident that you'll find Eucerin as your next holy grail, especially if you are dealing with oily skin. Give your face a break, with this lightweight SPF 50 sunscreen that provides 8 hours of shine control and absorbs quickly without leaving residue on your skin or in pores.
Best features:
Anti-shine effect, without the matte feel
Very light, gel-type sunscreen that is perfect for humid weathers
Easy to apply
Check prices on Lazada
Check prices on Shopee
3. Clinelle UV Defense Ultra Protection Mist Spray SPF50+ PA++++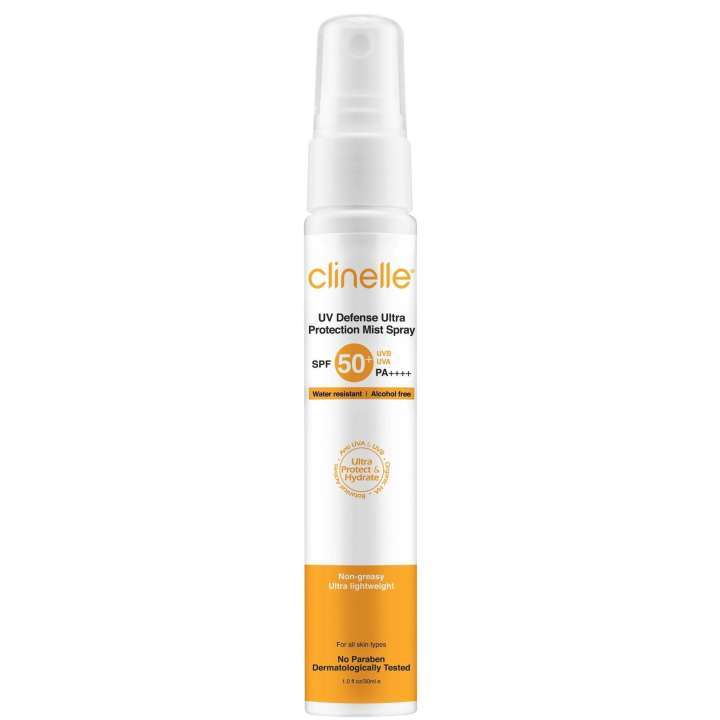 Best UV mist
When it comes to re-applying sunscreen, nothing beats having your own UV mist onhand. Comes in a 30ml bottle, this is a go-to sun protection companion that will not ruin your day's make-up.
It also nourishes your skin with its 100% Organic Hyaluronic Acid, which helps retain moisture (not oil). Apart from protection, it also has a repair mechanism through its Glycogen and Protect-E Technology.
What we love:
Ultra fine mist for easier application
Light to no scent
Versatile sunscreen with UVA and UVB coverage
Concerns:
Can be a bit pricey compared to other sunscreens.
Check prices on Lazada
Check prices on Shopee
4. Allie Extra UV Gel
Best value for money
Allie Extra UV Gel has gotten a whopping ranking of #1 in Japan and is now available to the rest of the world! No other sunscreen like it, because it's super waterproof and great for all skin types.
It takes only a small amount, so you'll get your money's worth with your 90g tube–can't beat that! You'll also have no friction during application and won't feel like sticky goop when done. Plus, just one sniff tells you this product has NO PARABENS or FRAGRANCE chemicals. Non-sticky feeling prevents friction when applying to yourself or your loved ones too!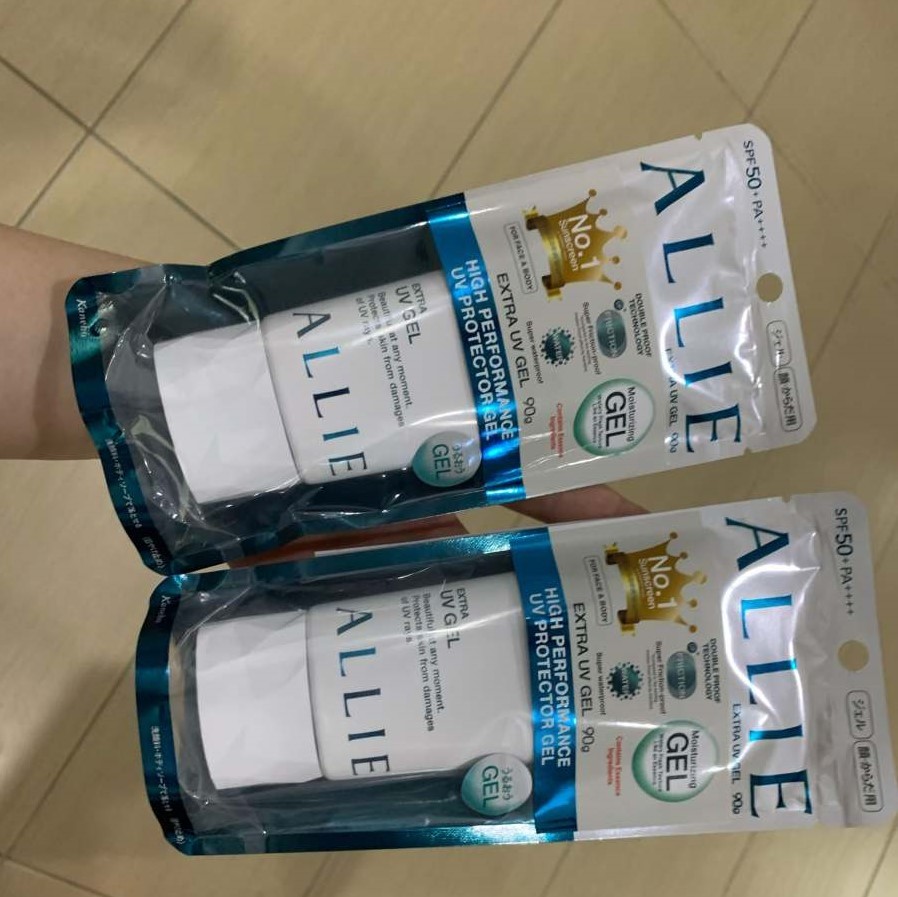 Why buy this:
Gel-type, non-sticky consistency
Great for face and body
Check prices on Lazada
Check prices on Shopee
5. Birch Juice Moisturizing Sunscreen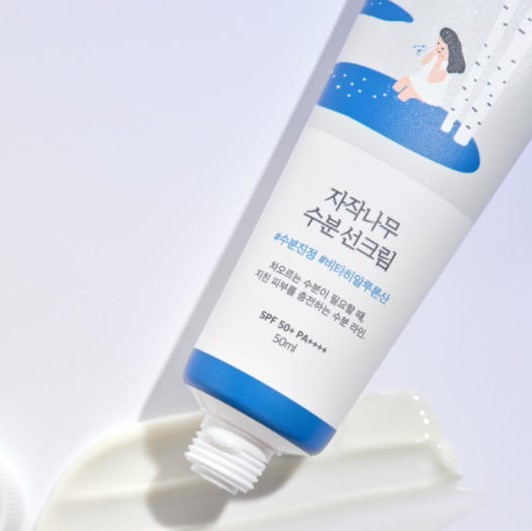 Best for hydration
Birch Juice Moisturizing Sunscreen does it best to protect your skin from UV rays, not only protecting but also preventing sunburn. This sunscreen's formula is packed with intense hydration for lasting moisture without a greasy feel. Skin's natural luminosity can be boosted and spread evenly as the refreshing ginger extract repairs dry spots and fades dark spots on the skin that are caused by acne, while other potent botanicals prevent premature signs of aging like wrinkles or crow's feet lines.
All this protection without irritation! Birch Juice Moisture Sunscreen is gentle enough for all-skin types including sensitive or acne-prone skin.
Best features:
Comes in a non-fluorinated formula and does not contain artificial fragrances
Relatively affordable for a 100ml bottle, plus it lasts for 6 months–one tube should last you all year!
No sticky feeling after application
Protects against UV rays, as well as hydrate your skin
What we don't like:
It is bulky to bring outdoors on travels. You would have to put it in your bag if you are going out of town.
Check prices on Lazada
Check prices on Shopee
6. HELIOCARE ULTRA 90 GEL SPF50+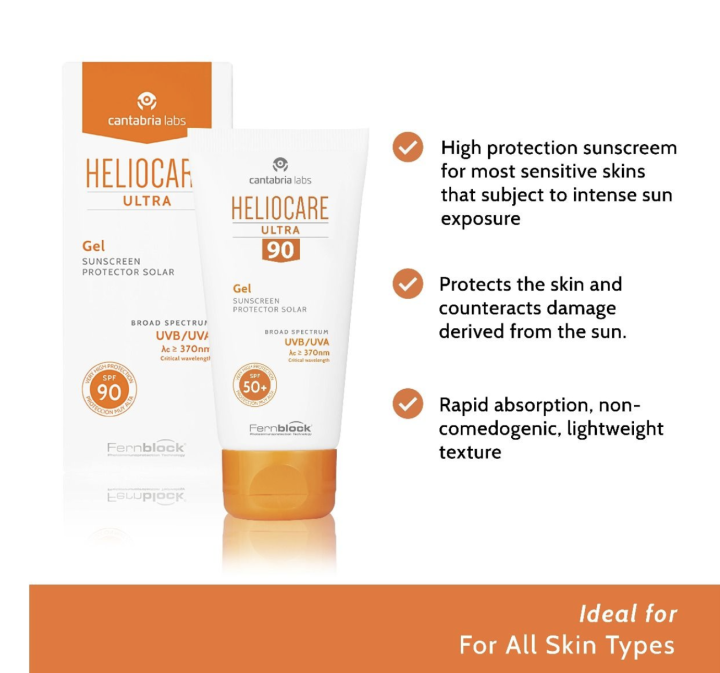 Best for anti-aging
You can protect your skin against UV radiance and minimize the occurrence of hyperpigmentation with HELIOCARE ULTRA 90 GEL SPF50+. It's also a sworn-buddy for your skin, decreasing DNA damage to help you stay young.
Featuring Green Tea Extract (a natural ingredient that helps kill all those pesky free radicals) and Vitamin E, this sunscreen is good for not only your sun protection but also your overall health. It offers physical filters like titanium dioxide or zinc oxide mixed in a gel base which contains a chemical filter like avobenzone to offer facial coverage for higher than normal SPFs.
What we love:
Very light texture and does not feel like you are wearing sunscreen, even under makeup.
Blends well with moisturizers and also oil-free moisturizers.
Cons:
Can be slightly pricey, but it's worth every cent spent on it!
Check prices on Lazada
Check prices on Shopee
7. Whitening Hydrating Sunscreen Cream Spray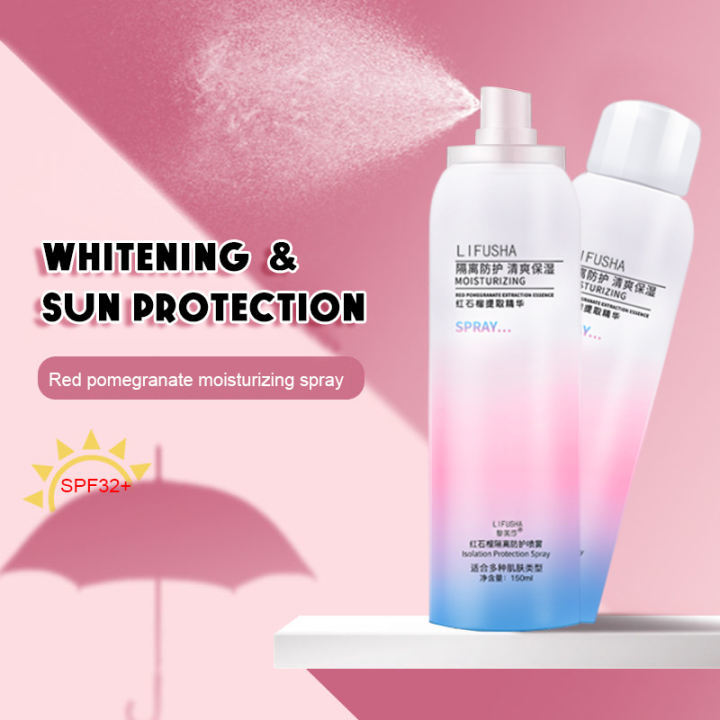 Best for skin brightening
Whitening Hydrating Sunscreen is specially formulated for skin with redness or hyperpigmentation like sunburn, cold sores, after laser treatment. Their Whitening Hydrating Sunscreen Cream Spray gives a cooling protection protection-in-a-mist to the face and body during every day outdoor activity.
It keeps your skin hydrated without loss of moisture from sweat or water loss. It also helps to improve the elasticity of your skin by strengthening its natural barrier from external aggressors including sunlight, which causes inflammatory reactions that lead to accelerated aging.

Best features:
Comes in cream and spray options.
Gives off cooling sensation when applied
Great for fair skin.
Check prices on Lazada
Check prices on Shopee
8. Jellys Pure Face Sunscreen Cream SPF50 PA+++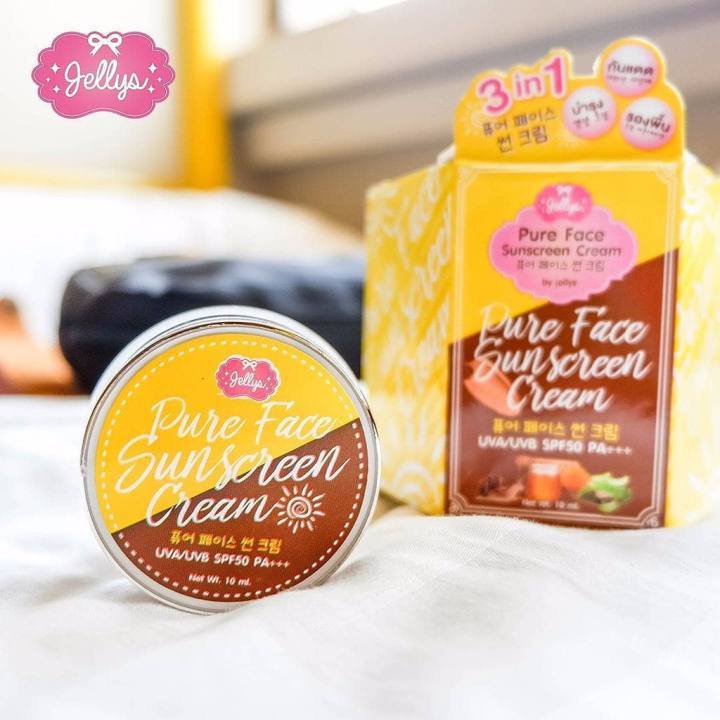 Best affordable option
This product is designed to be light and easily absorbed, which means it doesn't leave skin feeling oily. The high SPF protects your skin from the sun's ultraviolet rays, keeping you looking younger and healthy for years to come without any nasty side-effects.
This sunscreen silky cream reveals a bright beauty that picturesquely moves with every expression of your face! So get ready for the sunny season with our highly moisturizing Jelly Pure Face Sunlight Cream.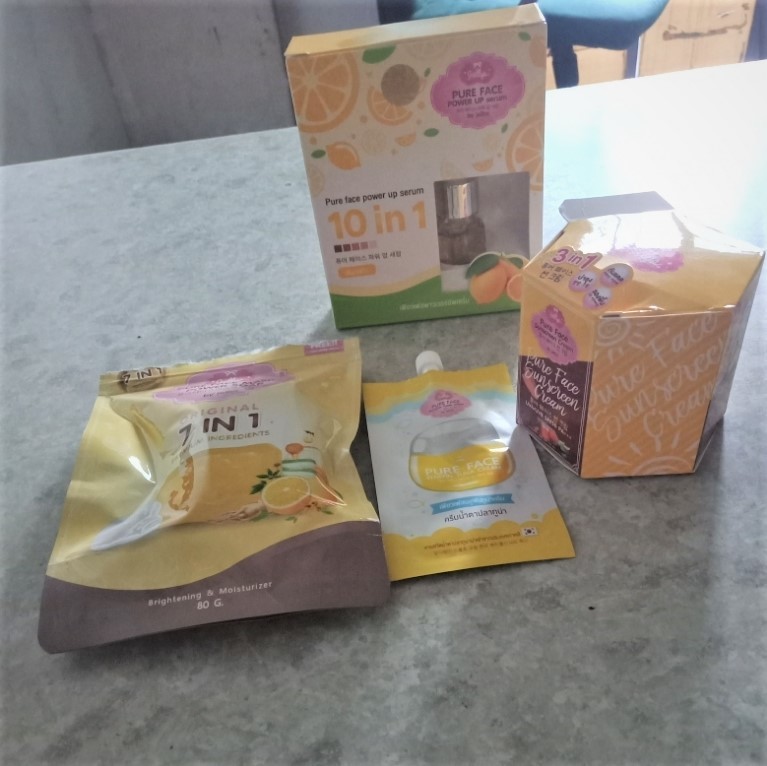 Why buy this:
Affordable for a 100ml bottle, and it lasts for 6 months or more.
Gives off slight cooling sensation when applied.
Does not leave white cast behind unlike some sunscreens on the market
Check prices on Lazada
9. Face Republic Purity Sun Essence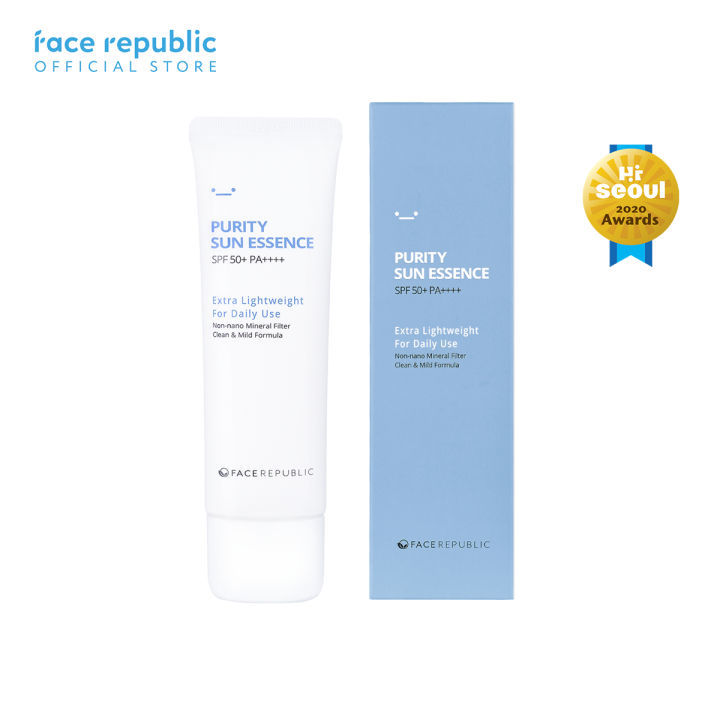 Best application consistency
Pure and natural sun protection has never been easier than with Purity Sun Essence. This gentle, fragrance-free formula will keep your skin looking fresh, healthy, and beautiful all year long.
Although it's lightweight and non-sticky, this SPF 50+ PA++++ physical sunscreen is sure to give you the desired protection against harmful UV rays (including UVA & UVB). The unique blend of ingredients makes this product high performance without any heavy feel or residue. Plus with a simple squeeze of the tube it glides on smooth like silk to suit both oily and dry complexions – no streaks or blotches for days!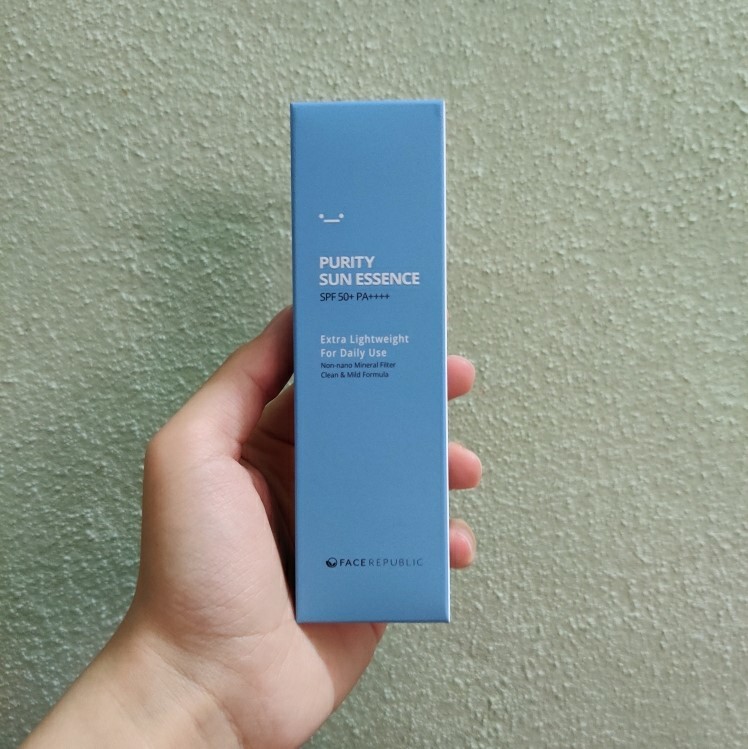 Best features:
Non-greasy formula.
Does not leave any white cast
Elegant packaging
Check prices on Lazada
Check prices on Shopee
10. Tea Tree Anti-Acne Sunscreen SPF50+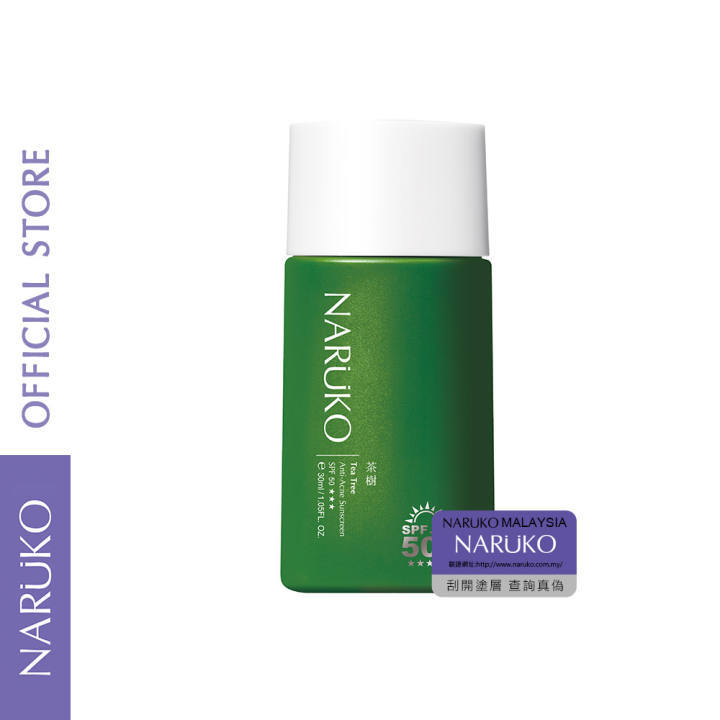 Best for acne concerns
Tea Tree Anti-Acne Sunscreen SPF50+ comes in a 5oz or 2.5oz package and is smothered with Tea Tree properties that make your skin feel cool, refreshed, soft as silk. Whether combating blemishes or preventing new ones from forming, this high factor sunscreen does its job effectively by blocking UV rays while being gentle enough for sensitive acne-prone skin types.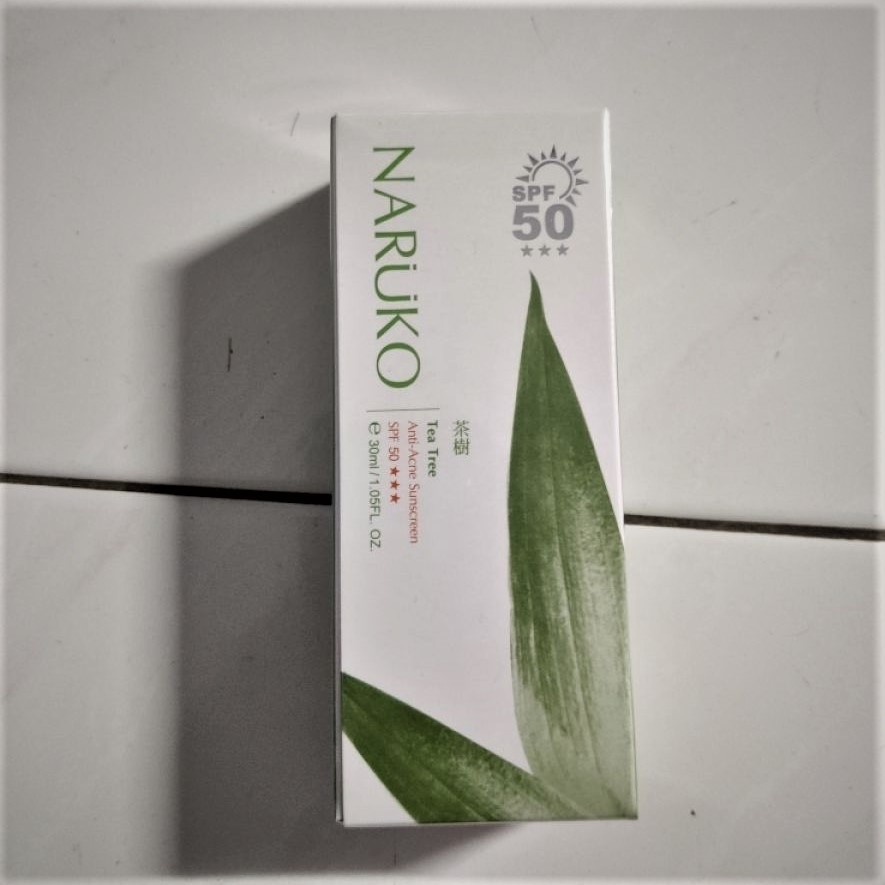 Best features:
Anti-acne formula
Leaves a cooling sensation because it contains menthol
Does not feel greasy, at all!
Check prices on Lazada
Check prices on Shopee
Choosing the Right Sunscreen for your skin type
We know it's easy to run out of your favorite product and replace it with something that doesn't seem quite as good. Out of all the skin care products, sunscreen is one of the trickiest one to settle on. This is particularly more challenging for those who have to deal with oily skin, at the same time.
When it comes to choosing the best sunscreen for oily skin go for products/brands that are oil free. Sunscreen is a type of moisturizer, and moisturizers are great for making your skin feel soft, smooth and supple. But if you're using an oil-based moisturizer plus adding another layer of sunscreen on top, chances are your face might be more oily at the end of the day than usual. That's why we recommend finding a non-greasy formula with an SPF of minimum 30. Consider using mineral sunscreens as well because they tend to sit better on oily skin types than chemical ones.
Check out these best sunscreens for oily skin:
3W Clinic Intensive UV Sunblock Cream SPF50+ PA++++
Eucerin Oil Control Sun Gel-Cream SPF50+
Clinelle UV Defense Ultra Protection Mist Spray SPF50+ PA++++
Related read: Best Sunscreens for Dry Skin
FAQs
Will sunscreen make my skin oilier?
It's possible. Not all sunscreens are the same. The best sunscreen for oily skin should be non-comedogenic (meaning it won't clog pores), oil-free, and lightweight.
Should I apply sunscreen even if it is gloomy?
Yes. UV rays can still get through your skin even when it is gloomy.
What is the difference between mineral and chemical sunscreen?
Chemical sunscreens absorb UV rays while mineral-based ones physically block them. Think of it this way, as the sunscreen absorbs the harmful UV rays which causes your skin to break out into rashes or burns, chemical based SPF can make you acne prone. While mineral based ones won't.
Click here for other beauty related articles.
Latest posts by Alice Yeoh
(see all)
This article was brought to you by BestAdvisor.my
Disclaimer: This is the opinion of the writer or publication. We only recommend products or services that we have tested and tried ourselves or have done in-depth research with positive external reviews and find them to be useful for everyone. The products/services shown are available upon the publication date. The availability may change from time to time. If some of them are not available, please email us at [email protected] Thank you!
Last Updated on