10 Best Fridge Malaysia Models
The refrigerator is one of the most underrated inventions ever. It has made our lives easier by allowing us to store food and making it available whenever we want something different for breakfast, lunch or dinner.
With so many models on the market today, it can be difficult to find the best fridge for your needs – especially when you have a small budget! This blog post reviews 12 of the top-rated refrigerators in Malaysia that are perfect for any person looking to purchase a new appliance without breaking their bank account.
Table of Contents
10 Best Fridge Models in Malaysia

Best Fridge Brands in Malaysia
How should I pick the best fridges in Malaysia?
FAQs
Best Fridges Comparison Table
(scroll right for more)
Check out the best fridges in Malaysia that you can find in 2021.
1. SHARP SJF858VMBK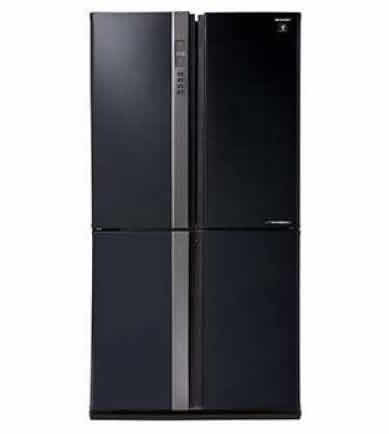 Best of all
This SHARP SJF858VMBK 700L 4 door Avance fridge is equipped with their unique, award-winning Actifresh Hybrid Cooling System, which uses a combination of compressor and fan cooling to maintain optimal humidity levels. The Plasmacluster Ion Technology dispels bacteria and odours.
The LED interior lighting casts a natural glow on your food, while the extra cool compartment is perfect for chilled drinks or snacks. And with the Eco Mode, you can save even more energy without sacrificing performance.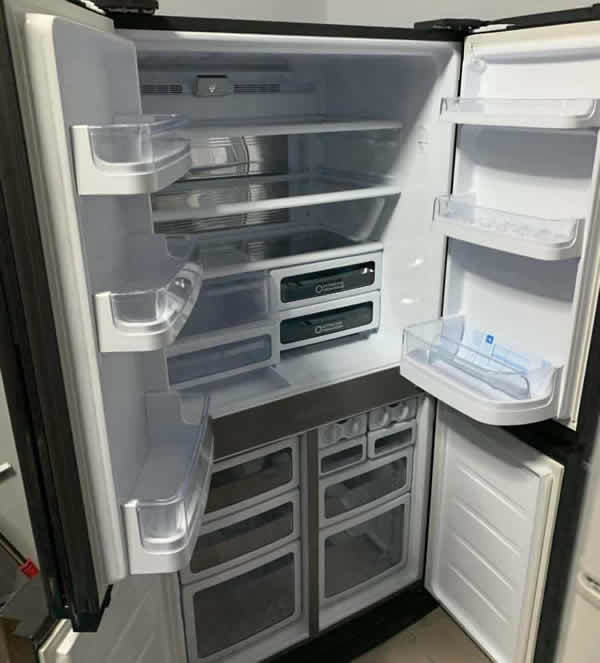 Pros
Low energy consumption
Longer lasting food
High quality interior lighting
Check prices on Lazada
Check prices on Shopee
2. LG Refrigerator GCB247KQDV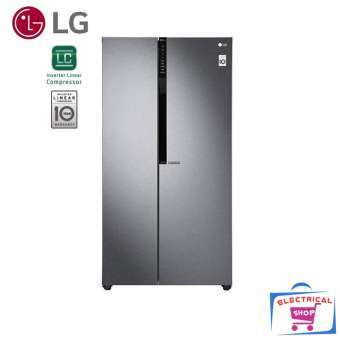 Great freezing mechanism
LG has the capacity and convenience that you need in a refrigerator. With 680L of gross capacity, it provides enough room for any fridge items imaginable; plus save space with its smart rotational design which helps make the most efficient use of available space. You'll also be able to track power consumption and other essential storage information with its digital display panel.
Additionally, LG has compiled multiple features into this mega-sized fridge that will not only look great but help your family thrive, such as an inverter linear compressor, express freeze function, glass shelves made from tough tempered material and a 10-year compressor warranty just to name a few of their many beneficial qualities.
If you're ready to take advantage of these benefits – don't wait! What are you waiting
Pros:
Multi airflow
Express freezing for quick feeling facilities
Smart diagnosis for adjustment of temperature
Its technological features allow it to be an energy-saving tool compared to other brands of fridges.
To buy the product or check its price, click here.
Check prices on Lazada
Check prices on Shopee
3. Hisense RR195D4AGN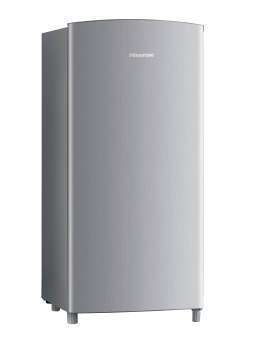 Functional and Essential Shelves
One of the most elegant-looking refrigerators in the market today from Hisense. Despite being a single-door fridge, it features lots of functional and essential shelves inside.
The best feature of the fridge is its reversible door refrigerator swing, so it won't be difficult to find a space for it in your house, despite the limited area. The size is also a great middle-ground for most fridges.
Pros:
You can forget about manual defrosting and enjoy the convenience of semi-auto defrosting.

Vege Crisper to keep veggies nice and fresh for a more extended period

Egg tray in the door, so you can always grab eggs when you need them.
You can buy this fast-selling fridge in Malaysia here or check out the bottom freezer fridge version here:
Check prices on Lazada
4. Midea MD-232V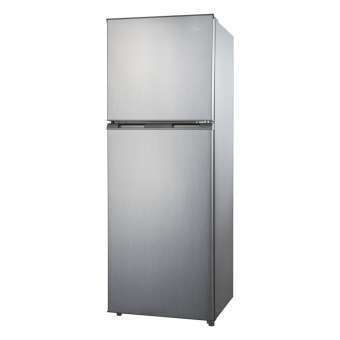 Best for Large Households
This is one of the recently popular refrigerators in Malaysia. It comes with lots of features meant to help you keep the fridge as organized as possible, with less food spoilage and a decent net capacity to store days worth of food.
The best-in-class Multi Air Flow System makes sure your food and beverages are cooled at the proper temperature, thanks to a powerful ventilation system that circulates the air evenly. It also comes with a 10 years warranty for the compressor so that's a great sign of the durability of this fridge.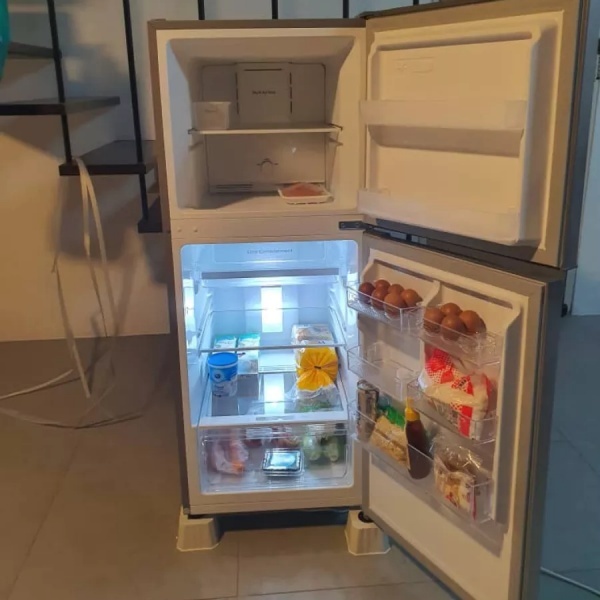 Pros:
The multi airflow system ensures even cooling inside to protect your food.

The tempered glass shelf is durable and easy to clean.

Keep ice on hand with freezer compartment, spacious fridge compartment
Check prices on Lazada
Check prices on Shopee
5. Samsung Refrigerator RS64R5101B4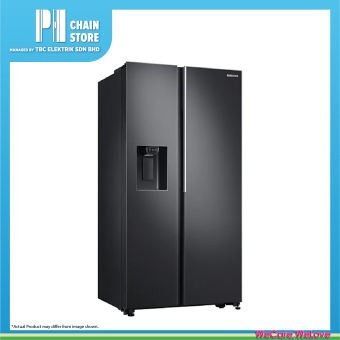 Power Freeze with Auto Ice Maker
If you are searching for a refrigerator for a large family that is also sleek in appearance, then this model will be ideal for you. With an internal capacity of 617L, this fridge will be spacious enough for your entire household.
The model comes with an outstanding cooling facility that will reach every single compartment such that all the food items remain cool and fresh within it. The freezing process can be speeded up with the help of the power freeze and power cool options as well. Moreover, the Digital Inverter Compressor will aid in saving your electricity bills as compared to the conventional compressors.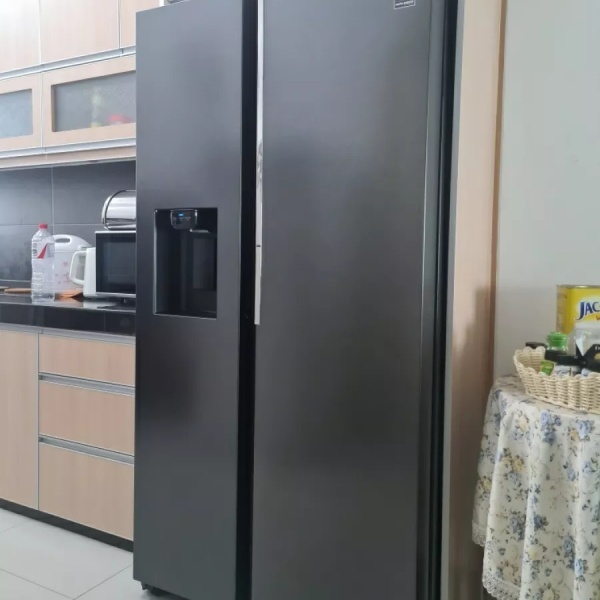 Check prices on Lazada
Check prices on Shopee
6. Bosch Series 6 KGN86AI4M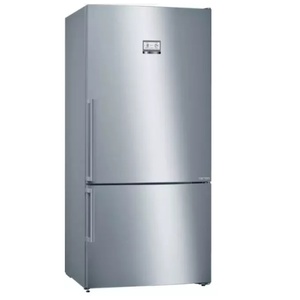 Best for Apartments
An apartment-friendly fridge in Malaysia that comes with sufficient shelves and compartments to fit up to a two-week worth of food. You can enjoy peace and quiet, even while the fridge is running. The innovative low noise design is perfect for those who are sensitive to noise.
It has centralized control for both the chiller and freezer. With its compact design, and easy to clean interior, this is a great addition to your small space.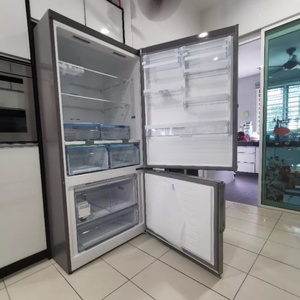 Pros:
Provides a lot of space for your food

Perfect temperature control

No frost system
Check prices on Lazada
7. HITACHI R-W720P7M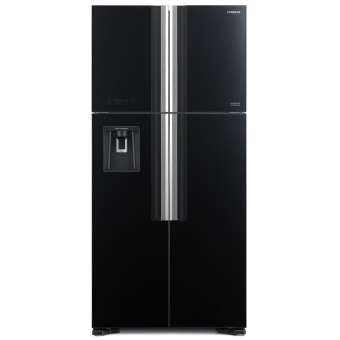 Budget 4 Door Fridge
The HITACHI Fridge is the perfect appliance for keeping your food cold and fresh. With dual fan cooling and a high power inverter compressor, this fridge can handle any load. The tank type water dispenser ensures you always have cold water on hand, while the flat glass panel controls make it easy to adjust the settings. And with the tone of voice that's witty and informal, you'll be sure to love this fridge.
Pros:
The water tank of the filter is fitted with LED light

The vegetable compartment is big and provided a moisture guard

Twist Ice Tray with quick freezing feature
Check prices on Lazada
Check prices on Shopee
8. HAIER HRF-238H 240L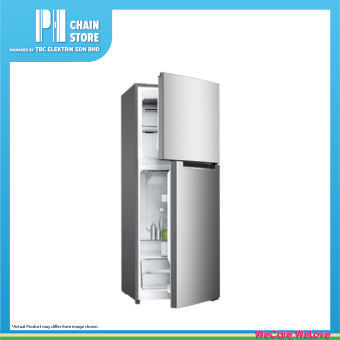 LED Light Fridge
Stylish LED light that makes every trip to the fridge even more enticing! But seriously, this 2 door refrigerator helps in making you find everything in one look. Many Haier users consider this as a constant item in the best fridge in Malaysia list.
Keep your food items fresh longer by storing them in the humidity-controlled fridge. From the exterior to an interior built, Haier made sure that their product consumes the least possible energy while retaining food freshness and providing sufficient cooling/freezing for all other items. It also comes with decent storage space perfect for a small family.
Pros:
The fridge boasts a 4-Star-Energy Rating, making it an eco-friendly appliance that saves you money on your electricity bills.

Humidity Storage

Top freezer access
Check the latest price tag for this fridge here:
Check prices on Lazada
Check prices on Shopee
9. Toshiba GR-B22MP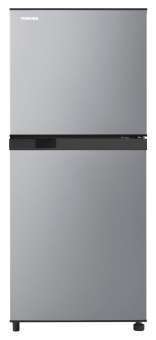 Anti-Bacterial Function
Come in a unique and elegant colour, this fridge will surely be a standout in your kitchen. The best part is, despite its sleek appearance, it has a large capacity making it the perfect fridge for family use. The Chiller Room Cooling feature in this freezer refrigerator keeps food fresher for longer by circulating cool air evenly throughout the room to cool the floor, ceiling, and walls. This means your food is also kept at a more consistent temperature. It is also equipped with an anti-bacterial function, thus keeping food fresh longer. This feature is already embedded in the Ag+ BIO Deodorizer.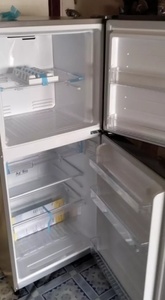 Pros:
Ag+ Bio Deodorizer that eliminates up to 99% of bacteria and odor in the air.

Vegetable Room for Freshness

Chiller room cooling keep your food fresh and cold.
Check prices on Lazada
Check prices on Shopee
10. Hisense Mini Refrigerator RR60D4AGN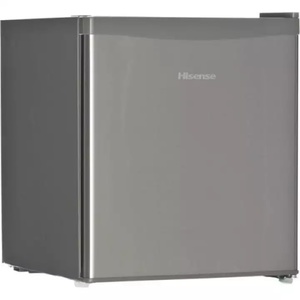 Perfect for smaller areas
The Hisense 60-liter Mini Fridge is perfect for chilling your food and drinks in any room. With seven temperature ranges to choose from, this fridge can accommodate whatever you need, whether it's a cold drink or some ice cream. Plus, the separate chiller lets you store meats and cheeses at their ideal temperatures to keep them fresh. And with low noise levels, you won't have to worry about disturbing anyone when you want a snack.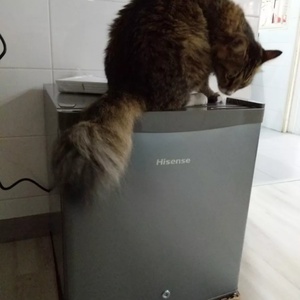 Pros:
Adjustable leg height

Compact for those dorming

Complete features in a smaller fridge
Check prices on Lazada
Check prices on Shopee
Best Refrigerator Brands in Malaysia
Now you may wonder what the popular fridge brands are in Malaysia? Here are 9 of the best fridge brands in Malaysia that homeowners should know about:
LG
When it comes to refrigerators, LG Fridge is among the top brands. Their products are well-known for their quality and durability, as well as elegant designs. Some models even come with special features like Multi Air Flow System, Twin Cooling Plus system, water dispenser and vegetable crisper, which make staying at home all the more pleasant!
Sharp
Sharp fridges boast modern looks and high efficiency due to their Twin Cooling Plus systems that improve energy consumption while keeping the temperature steady. They also come with a Turbo Freezer that maintains an optimal frozen state for up to 7 days and produces white light to make foodstuff more visible.
Hitachi
This trusted brand has a long history in Malaysia, and Hitachi fridges have proven themselves time and again in terms of durability, efficiency and energy-saving! Some of their products include Bi-Door Refrigerators with Multi Air Flow System (which helps regulate the temperature) and Twin Cooling Plus. They also make Sandwich Bags which solve the perennial problem of dirty kitchen floors!
Bosch
Bosch abides by its mission to make every food taste fresher for everyone. Not only that, but they also design all their fridges to be more convenient to set up and clean. They have so many styles and types of fridges that will surely fit your desires!
Do Your Research!
As you can see, there is no shortage of fridge brands in Malaysia. The key to getting the best deal is knowing your needs and doing thorough research before deciding on which brand to go for!
How should I pick the best fridges in Malaysia?
Looking for the best fridges in Malaysia is not difficult. A great rule of thumb in buying a refrigerator is "just because it is cheap, does not mean you should buy it." A lot of the newer models of fridge comes with important features including energy efficiency and anti-bacterial technology, both meant to reduce wastes. However, this may mean a higher price for the item. You can also choose between different opening mechanisms for your fridge. One of the more popular door design these days is the french door type. It's more spacious yet retains a compact look.
Is A Single Or A Double Door Better?
For the most part, a double door is usually larger and heavier than a single door. While that means that it'll generally hold more food, it also means it has a bigger footprint, which could cause more clutter. Additionally, because of this extra size, the double door and french door requires less of a cooling volume and can thus use more energy.
However, double doors often require more time and care when you need to move your groceries. On the other hand, a single door is usually easier to clean, doesn't require a handle on the top, and thus could prove to be more convenient for food shoppers. So, if you just need to move your perishables from the back to the front without putting a lot of extra strain on your hands, a single door might be your best bet.
in short, a single door fridge can help you keep a tight rein on your food's temperature, but keep in mind that an alternative can store more food in less space. Meanwhile, a double-door fridge can save you money on energy costs, but your cabinets will be more crowded.
However, the minimal difference that you pay will have long-term savings. So, it is important to look beyond the price of a type of fridge. Another thing is to determine which part of the fridge you'll be needing the most. Since, some fridges will have ample space for the chiller, while some come with a larger freezer. Finally, space is your final consideration of buying a fridge. The small fridge will most likely have almost the same energy-saving feature as the larger ones.
FAQs
What are the best brands in Malaysia?
The best fridge brands are Hisense, Midea, Haier, Toshiba, and Electrolux.
How do I choose the right model?
A great rule of thumb in buying a refrigerator is "just because it is cheap, does not mean you should buy it." A lot of the newer models of fridge comes with important features including inverter technology, ice maker, frost free cooling.
Are there comes with stand?
Some of the great fridge models will no longer require a stand because they have their own elevated "feet".
How much does it cost in Malaysia?
A top performing, energy-efficient fridge costs around RM1,000.00
How to keep it at the right temperature?
At a minimum, you should keep your fridge temperature at between 34-36 F (1.5-2 C). You should also keep the temperature in your freezer between 0-0.4 F (-18 to -22 C). And to help you keep your refrigerator at the right temperature, you can use the following. Sensor, thermometer, or 'soda lids' to check the temperature.
Most modern fridges have an electronic 'heat pump' which keeps the inside of the fridge at the right temperature. So if you use a digital temperature thermometer or sensor (like this one for 1.5 C temperatures), you can check the inside of the fridge to make sure it's set correctly. Here are the temperatures you're likely to find: Freezer temperatures Frozen foods have very low temperatures: -7 F (-22 C).
What is a french door refrigerator?
French door fridge is a type of 2 door refrigerator that opens outward from the center of the fridge. French door types of fridges, particularly those running on j tech inverter technology are often the top choices for modern houses because of their space and energy efficiency.
How do I reduce smell?
Activated carbon is an effective way to reduce to those nasty fridge smell, although many freezer refrigerators also already come with their own bio deodorizer already.
Which is a better option between bottom freezer and top freezer?
Bottom freezer refrigerator is all about accessibility and freezing efficiency. It's a lot easier to store and reach for larger and heavier items. However, top freezers are more commonly available and are best for keeping regularly-sized frozen goods.
Conclusion
There are a lot of different refrigerators on the market. But don't worry! We've got you covered. We hope that this article has given you some insight into the different types of refrigerators available, as well as how to choose one that is perfect for your home! The perfects fridge is a big step to your dream kitchen!
Click here for other kitchen appliances related articles.
Latest posts by Alice Yeoh
(see all)
This article was brought to you by BestAdvisor.my
Disclaimer: This is the opinion of the writer or publication. We only recommend products or services that we have tested and tried ourselves or have done in-depth research with positive external reviews and find them to be useful for everyone. The products/services shown are available upon the publication date. The availability may change from time to time. If some of them are not available, please email us at [email protected] Thank you!
Last Updated on