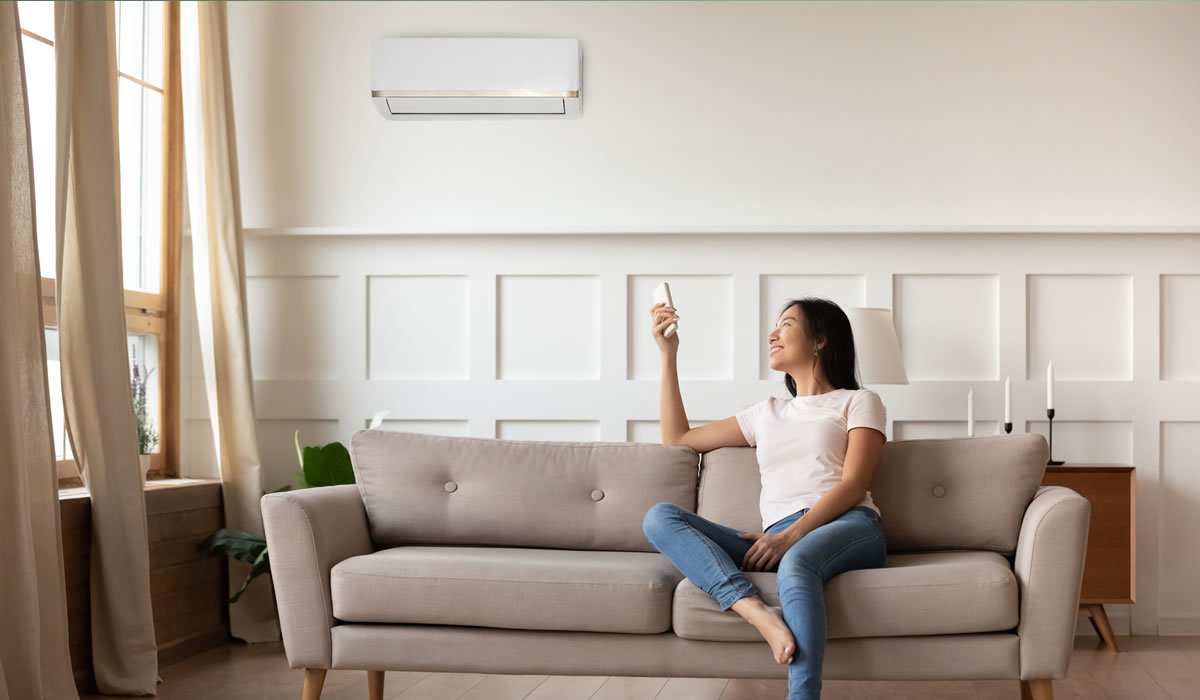 Looking for the best airconds Malaysia has to offer? Look no further!
In this blog post, we will be discussing 11 of the best air conditioners in Malaysia. We will also provide a buying guide to help you choose the perfect AC for your home or office. Keep reading to learn more!
Let's look at and compare all the top-recommended aircon brands and models. Then we will explain more about the type, brand and how to choose the right one.
Quick Comparison Table
11 Best Air Conditioners in Malaysia
We've compiled a list of the 11 best air conditioners in Malaysia, based on performance, price, and reviews from consumers. Whether you're looking for an aircond for your home or office, we have the perfect one for you.
1. Mitsubishi Mr. Slim Aircond JS Series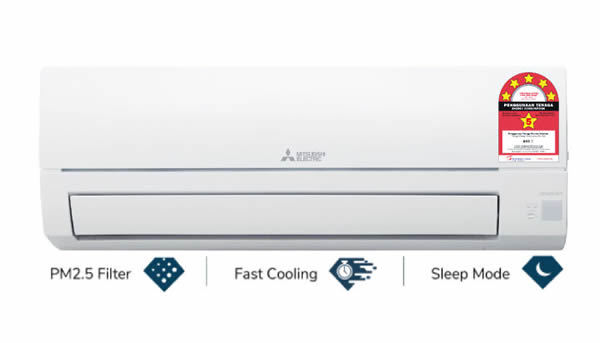 Best of All
Mitsubishi Mr.Slim is the latest air-conditioning technology! It has an advanced inverter that uses cutting-edge Mitsubishi Electric technology for powerful cooling performance and high energy efficiency.
The R32 Energy Saving will help you save on your electricity bills, while the 5 Star Energy Rating means you're doing your bit for the environment. Not to mention, it comes with a handy Air Filter (Prefilter) and Microparticle Catching Filter (PM2.5) to keep your home free from harmful pollutants.
There's even a computerised Dehumidification mode to keep humidity levels under control. The sleek design features a durable electronic metal housing that is anti-rust treated and includes emergency circuit protection for your safety. (If you are looking for)
Pros:
Strong cooling effect capabilities
Powerful and efficient
R32 air conditioner with Energy-saving function
Anti-rust treated housing
Cons:
Check prices on Lazada
Specifications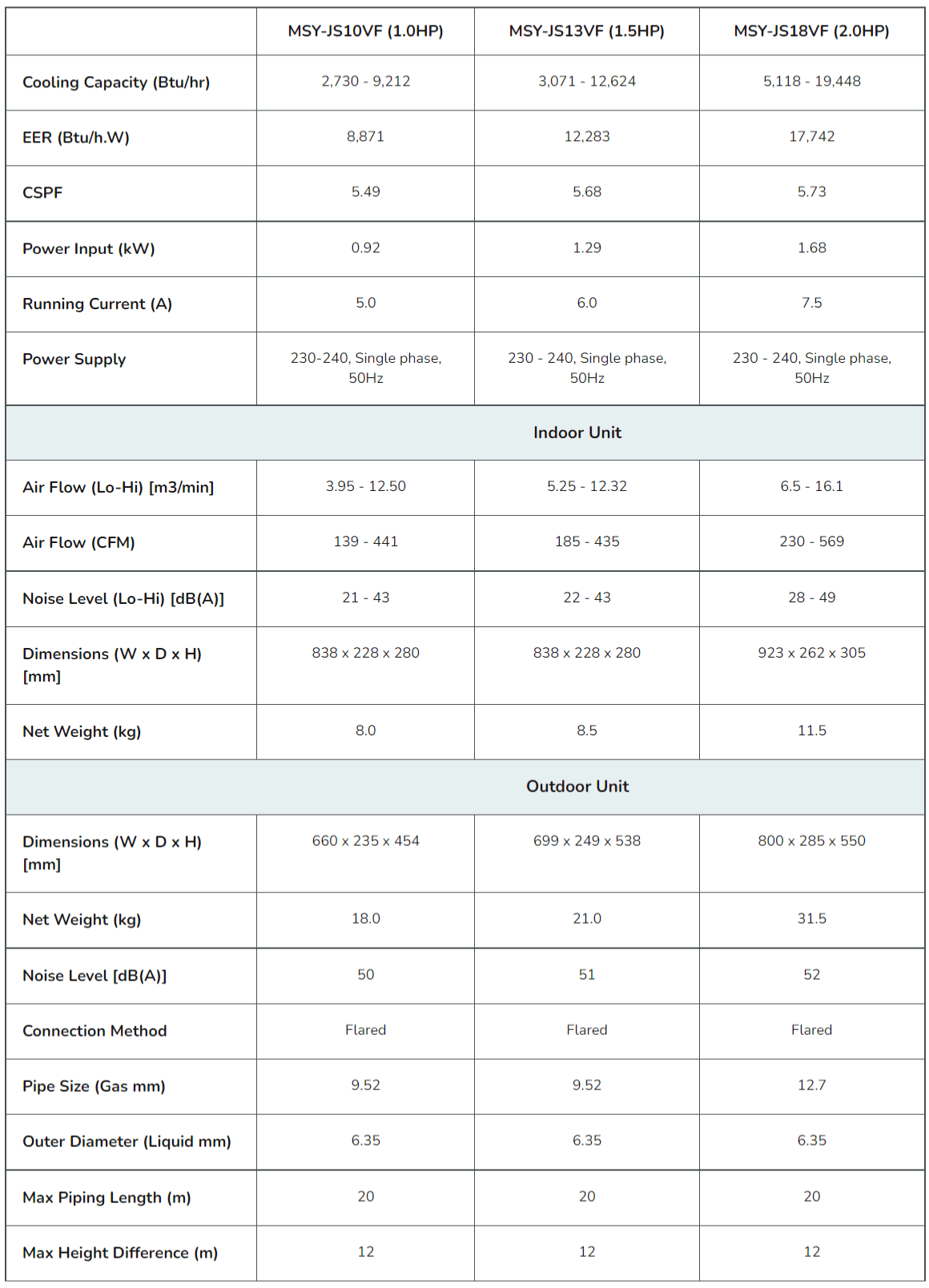 2. LG S3-Q12JA2PA Dual Inverter with Ionizer 1.5HP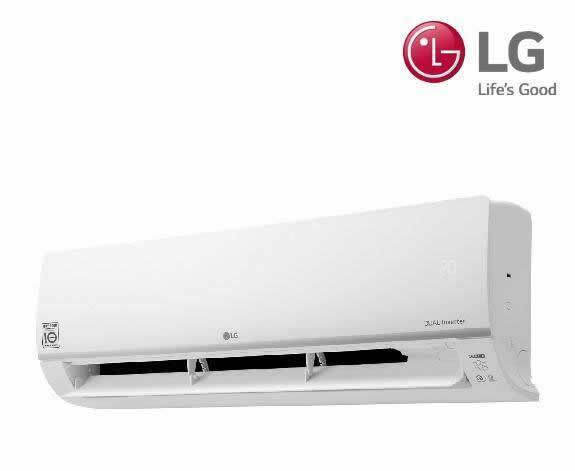 Best Inverter Air Conditioner
Looking for an air conditioner that cools faster and lasts longer? Check out LG's Dual Inverter Compressor™ – it's specifically designed to solve improper, ineffective and noisy cooling problems. Plus, it comes with a 10-year warranty, so you can enjoy the benefits of LG air conditioning for a long time to come.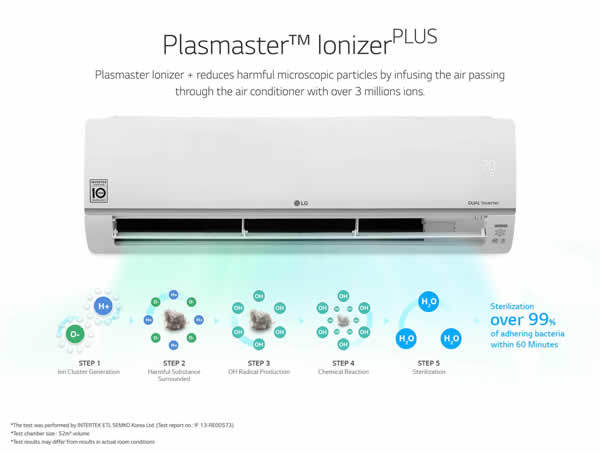 The Plasmaster™Ionizer+ produces negative ions that help to purify the air, reducing allergens and promoting healthier breathing. The allergy filter helps reduce allergens in the air for healthier breathing, while the auto cleaning function keeps the unit clean and free of dust. Don't let the heat get you down this summer – stay cool with the LG 1.5HP Dual Inverter Premium Air Conditioner.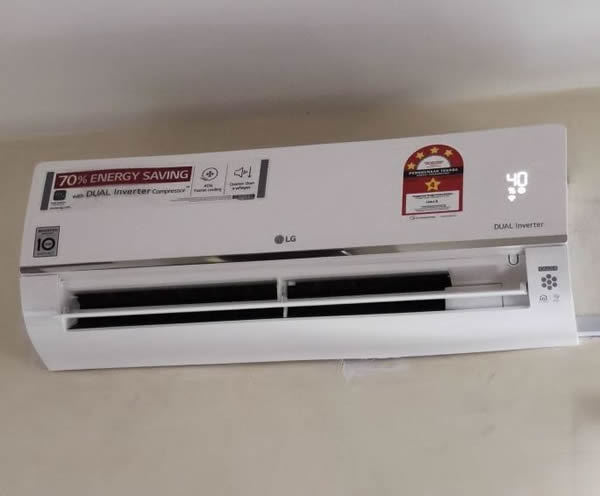 Pros:
Dual Inverter Compressor™ for faster, longer-lasting cooling
10-year warranty
Plasmaster™ Ionizer+ produces negative ions to purify the air
Allergy filter helps reduce allergens in the air
The auto-cleaning function keeps the unit clean and free of dust
Cons:
Less popular compared to other Japanese brands
Check prices on Lazada
3. Hitachi Wall Mounted DC Inverted R32 XJ Series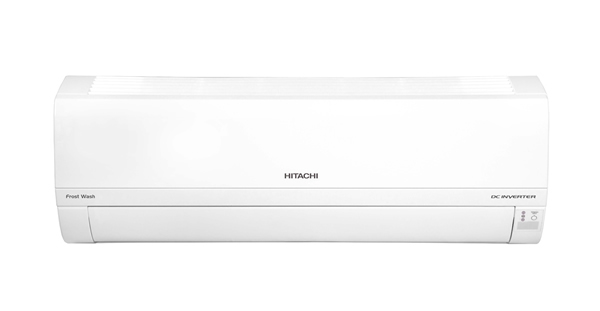 Popular Choice
The Hitachi Wall Mounted DC Inverted R32 Air Conditioner XJ Series is a unique and innovative product that offers a variety of features to make your life more comfortable.
With Horse Power options of 1.0 HP, 1.5 HP, 2.0 HP, or 2.5 HP, this air conditioner can cool any room in your home with ease. The one year warranty gives you peace of mind that your purchase is protected, and the Wireless Remote Control allows you to change settings without ever having to leave your seat.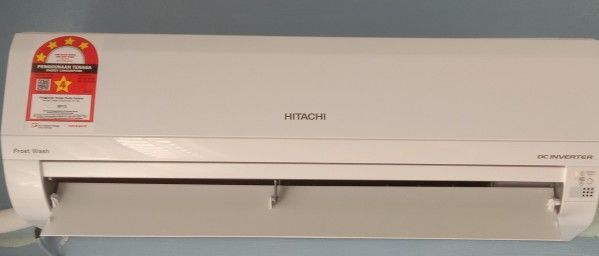 The Frost Wash feature eliminates dust and bacteria build-up on the heat exchanger surface, and the DC Inverter System saves energy while providing optimum cooling and heating performance.
The anti-corrosion coating on the outdoor unit helps to protect it from the elements, making it a great choice for those with allergies or asthma. Plus, the three-minute delay fuse blow prevention feature keeps your home safe in case of an emergency.
Pros:
Three-minute delay fuse blow prevention feature
Anti-corrosion coating on the outdoor unit
Cons:
Shorter warranty compared to LG aircon
Check prices on Lazada
4. Acson Inverter R32 A3WMY10N /15N/20N/25N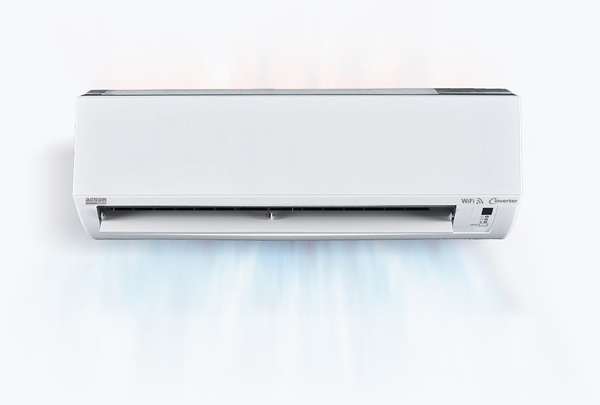 Local Support
Looking to beat the heat without breaking the bank? Look no further than Acson's Inverter R32 air conditioner! This innovative appliance features a compressor control system that eliminates wasteful electricity consumption, saving you money on your energy bills.
Plus, its inverter system adjusts the capacity smartly according to the air conditioning load, ensuring that you get the most out of your unit. And if serenity and tranquillity are what you're after, this AC can bring down the sound level to an unobstructive 21dBA.
So don't suffer through another sweltering summer – invest in an Acson Air Conditioner Inverter R32 today!
Pros:
The inverter system adjusts capacity to load, saving energy
Quiet operation at 21dBA
The compressor control system eliminates wastefulness
Cons:
Some complaints QC is not good
Check prices on Lazada
5. Hisense R32 AN09CBG
Best value for money
The Hisense CB Series air conditioner is the perfect addition to any home. With the One Button, Auto Clean feature, you can easily keep your fridge clean and running smoothly.
The Smart Mode auto-runs the most comfortable mode for you, so you can relax and know that your fridge is taken care of.
And if it's quiet mode you're looking for, the Super Quiet Mode will keep all operations as quiet as possible. Plus, with the LED dispaly, you'll always be able to see what's going on inside your fridge.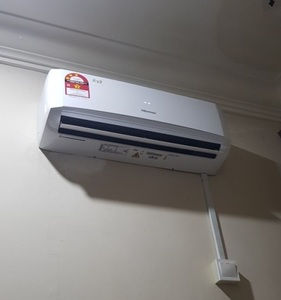 Pros:
Low energy consumption
Smart mode and quiet mode
LED display easy to see and understand
Cons:
Only recommended for living areas up to 50m
Check prices on Lazada
6. Haier HSU-10VTK21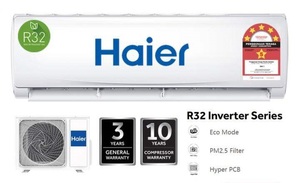 Long warranty
Introducing the Haier HSU-10VTK21 Inverter R32 Air Conditioner! This smart and powerful appliance is designed for durability and quality, with a 10 year warranty on the compressor and 3 years warranty on general parts.
It's perfect for those who want to stay cool in Malaysia's hot weather – 47% faster cooling than a standard air conditioner means you'll be comfortable in no time.
Plus, the inverter technology ensures consistent performance at any speed, making it perfect for any room in your home.
Pros:
Durable and high quality
10 year warranty on the compressor
3 years warranty on general parts
Cons:
Not the quietest inverter aircon in the market
Check prices on Lazada
7. Daikin FTKF71B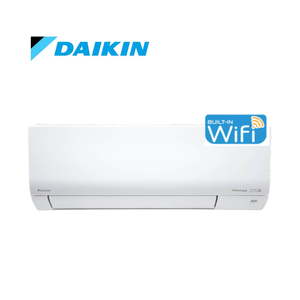 Best 2.5 hp Air conditioner
The Daikin FTKF71B is a wall-mounted air conditioner that has many features to make your life easier. This AC comes with a 2.5 horsepower motor, making it perfect for small to medium-sized rooms. It also has an air purification system with a green tea filter to keep your home healthy and fresh. Do check out our best air purifier if you look for an individual unit for air purification.
The removable drain pan makes maintenance a breeze, and the compact controller is easy to use. Finally, the Econo Mode can help you save energy when you need it most.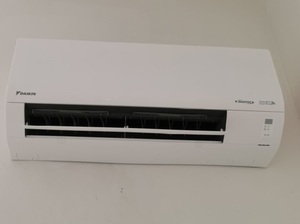 Pros:
Extensive range of features like an air purification system, remote control and more!
Econo mode helps save energy
Cons:
Really not designed for larger spaces or rooms with high ceilings (the area that can be covered is around 45 square meters)
Check prices on Lazada
8. Samsung R32 S-Essential
Best Samsung Air conditioner
The Samsung Air Conditioner S-Essential Non-Inverter has an HD Filter that helps remove allergens and bacteria from the air. It also has a fast cooling mode so you can cool down quickly. Plus, it features an auto mode that adjusts the temperature depending on your needs.
And if you need to dehumidify the air, this model has that too! Finally, there's also fan mode for those who just want to circulate the air. Plus, this product comes with a 2-year general warranty and 10-year compressor warranty.
Pros:
Comes with a 2-year warranty and 10-year compressor warranty, great for long term use
Features auto mode to adjust the temperature depending on your needs
Cons:
Doesn't come with an air quality indicator (though it does come with an air dehumidifier)
Check prices on Lazada
9. GREE Lomo32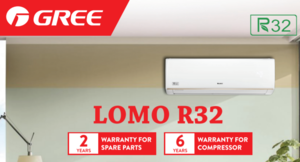 Best value for money
Introducing the GREE Lomo32 air conditioner! This top-of-the-line appliance has a 3-star energy efficiency rating, automatic operation, and auto restart. Plus, it generates active ions which can eliminate up to 90% of bacteria, viruses, and dust.
The cold plasma and Golden Fin work together to keep your unit running smoothly while Turbo Function ensures quick cooling. And with self-diagnosis and refrigerant leakage protection, you know your Lomo32 is in good hands.
Plus, it comes with a 2-year full warranty and 6-year warranty on the compressor!
Pros:
3 star energy efficiency rating, great for saving electricity bills!
Generates active ions to eliminate up to 90% of bacteria, viruses, and dust
Features cold plasma and Golden Fin technology for a smooth operation
Cons:
A tad bit expensive but worth the money if you consider the warranty provided.
Check prices on Lazada
10. SHARP JTEC AHX9VED2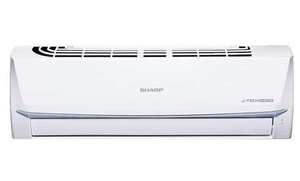 Best 5-star energy rating air conditioner
The SHARP 1HP R32 JTEC INVERTER AIR CONDITIONER AHX9VED2 is a powerful air conditioner with a 5-star energy rating. The Jet Technology creates a powerful airflow that blows vigorously downwards, while the Coanda Technology ensures 14m of long airflow.
The J-Tech Inverter helps to reduce electricity costs and prevent over-cooling, making it an efficient and cost-effective choice for any home. Plus, it features a remote controller and touch screen display for easy use.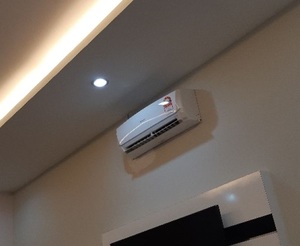 Pros:
5 star energy rating is great for efficient cooling
Coanda Technology creates 14m of long airflow that blows downwards
J-Tech Inverter helps prevent overcooling while reducing electricity costs
Cons:
The unit is on the bulkier side so you might want to check if it can fit in your room before purchasing one.
Check prices on Lazada
11. Panasonic CS-PN9WKH
Best non-inverter air conditioner
Stay cool and comfortable all summer long with Panasonic's Non-Inverter Air Conditioner. This powerful AC unit features a large flap that provides an extra-long airflow for greater cooling power.
Plus, it runs on R32 refrigerant, which is more efficient and environmentally friendly than older models. So don't swelter another summer – get yourself a Panasonic Non-Inverter Air Conditioner today!
Pros:
R32 refrigerant is more efficient than other models. The environmentally friendly choice!
Features a large flap for extra cooling coverage
Works quietly and effectively to keep you cool all summer long
Cons:
Doesn't come with a remote controller, which might be a problem if you're not comfortable setting the temperature manually.
Check prices on Lazada
Types Of Airconds System
There are many types of air conditioner models on the market today, and choosing a suitable unit for your home can be a bit daunting. Here are the typical types of aircon you can find in Malaysia.
Split AC/Wall-Mounted Air Conditioner
A split-type air conditioner (often called wall-mounted AC) is made up of three parts: the evaporator, the condenser, and the compressor. The evaporator and condenser are usually mounted on the wall or floor, while the compressor is located outside.
This type of air conditioner is efficient and can be used in many different settings. It is relatively quiet, making it ideal for use in house and office buildings where noise levels need to be kept to a minimum. This is the most common type of AC for residential.
Centralise/Ducted Aircond
Ducted AC units are powerful and efficient, and they can provide even cooling throughout your entire building. They're also very quiet, making them a good choice for commercial & office space.
However, ducted AC units can be more expensive than other types of air conditioners, and they require professional installation.
Window Aircond
Window AC is easy to install and can be placed in various locations in your home. One advantage of window units is that they are very affordable and easy to install. However, one downside is that they can be noisy, so if you are looking for a quiet air conditioning option, you may want to consider another type of unit.
Portable Air Conditioner
A portable air conditioner (or air cooler) is a self-contained unit that can be moved from room to room as needed. They typically have wheels and handles for easy transport, and they can be set up in minutes.
Some portable air conditioners also have a built-in dehumidifier, which can help to reduce moisture levels in the air.
Ceiling Cassette AC
A ceiling cassette air conditioner is a type of air conditioner that is typically used in commercial settings. These units are very powerful and can quickly and efficiently cool large areas.
Ceiling cassette units are usually mounted on the ceiling in a central location, and they have a large grille that allows air to be distributed evenly throughout the space.
VRF Air Conditioner
VRF AC, also known as variable refrigerant flow systems, is becoming more popular in commercial and shopping centres. VRF systems offer many advantages over traditional AC systems, including improved energy efficiency and greater flexibility in terms of design and installation. One of the best things about VRF systems is letting each zone have its own temperature.
Top Aircon Brands in Malaysia
Now that you have a better understanding of the different types of aircond, let's look at some of the best brands available in Malaysia.
Mitsubishi Electric
As a top aircon brand in Malaysia, Mitsubishi electric is known for its high standards of craftsmanship, pride and passion for quality. For over four decades, the company has been leading the industry in Malaysia with its popular inverter standard (MSY-GJ10VA) and super deluxe (MSZ-FH25VE) models. In addition to its inverter models, Mitsubishi Electric offers a non-inverter deluxe range (MS-GK10VA).
Daikin
Daikin is a Japanese company making air conditioners for over 90 years. In that time, they have earned a reputation for quality and durability. Their air conditioners are also backed by a comprehensive warranty, making them ideal for Malaysian consumers.
In addition to quality and durability, Daikin air conditioners are also very energy efficient.
Panasonic
Panasonic is a popular choice in Malaysia because they have excellent performance and are affordable. They come with a variety of features that make them perfect for both home and business use.
For example, the iAuto-X feature automatically adjusts the airflow direction and speed to ensure your room stays cool, even if the conditions change. The Econavi technology in the Panasonic air conditioner helps save energy by reducing compressor operation when the desired cooling level has been reached.
Hitachi
All Hitachi air conditioners are built to high standards and come with features that make them easy to use and efficient. The most popular models are the EJ Series Standard and the XJ Series Inverter.
Both offer excellent performance and value for money. Hitachi is a brand you can trust if you're looking for a quality aircon unit.
Mitsubishi Heavy Industry
Mitsubishi Heavy Industry is one of the top aircon brands in Malaysia. The company has been in business for over 50 years and is known for its high-quality products. Their air conditioners are available in various models, including split-type, wall-mounted, and ceiling cassette units.
Mitsubishi Heavy Industry products are backed by a comprehensive warranty plan, making them a safe choice for Malaysian consumers.
Acson
Acson's Foresto technology is the latest innovation in air conditioner design, and it brings the refreshing, cool air of the forest right into your home. This unique system uses a combination of sensors and fans to create a natural airflow that simulates the gentle breeze of the forest. In addition, the Foresto system also uses negative ions to purify the air, providing you with a clean, healthy environment.
York
York is known for its energy efficiency, durability, and innovative features. For example, many York models come with iFeel technology, allowing users to control the temperature based on their body temperature.
Additionally, York offers a wide range of models to suit different needs and budgets. Whether you need a powerful unit for a large space or a more compact model for a small room, you can find it from York.
Midea
Midea was founded in 1968 in China, and today the company is a leading appliance manufacturer with a global reach. In Malaysia, Midea is one of the leading brands of air conditioning and the company's products are available through a network of authorised dealers.
Midea offers a wide range of air conditioners to suit any need, and a comprehensive warranty backs the company's products.
Sharp
Established in 1912, Sharp has a long history of manufacturing quality appliances. Sharp has been manufacturing quality air conditioners for over 50 years, and their products are known for their durability and energy efficiency.
In addition, Sharp offers a wide range of air conditioners to suit any budget, so you're sure to find the perfect model for your home. And if you're looking for top-of-the-line features, Sharp's Plasmacluster air purifiers are some of the best.
Hisense
Hisense is known for their quality, durability, and features. One of the most popular features of Hisense aircons is the new auto-clean feature.
By just pressing one button on the remote controller, you can enable the auto-clean function and provide clean air to your home. This is a great feature for families with allergies or asthma because it can help to reduce the number of allergens in the air.
Samsung
Samsung air conditioner is known for their WindFree™ Cooling technology, which helps to keep users comfortable without making them feel cold. They also come with SmartThings technology, allowing users to control the air conditioner from their smartphone remotely.
In addition, Samsung's AI Auto Cooling feature ensures that the air conditioner is used in the most efficient way possible.
Haier
Haier air conditioners are designed with energy efficiency in mind, and their Eco Mode can save you up to 63% on your energy bill. In addition, their advanced PM2.5 Filter removes harmful airborne particles, giving you fresh, clean air to breathe. And their Hyper PCB is more durable and resistant to insects, moisture, and corrosion.
LG
LG's DUAL Inverter Compressor™ Technology is at the heart of their success. This technology allows their units to cool faster and more efficiently while still being durable and quiet.
In addition, LG's commitment to energy efficiency means that their air conditioners use less electricity, saving you money on your energy bills.
Gree
Gree Electric Appliances Inc. is a Chinese air conditioning and home appliances manufacturer. The company was founded in 1993 and manufactures products such as air conditioners, refrigerators, washing machines and water dispensers under its own brand names "Gree" and "Lonzano".
Buying Tips – How To Choose A Right Model
When choosing an air conditioner, there are a few things you need to consider.
Noise Level
All air conditioners produce some noise, but some are louder than others. If you're looking for an air conditioner that won't disturb your sleep, you'll want to choose one with a low noise level.
Look for an air conditioner that is between 40 and 60 decibels (dB). You may even be able to find one that is below 40 dB.
5-Star Energy Rating Air Conditioner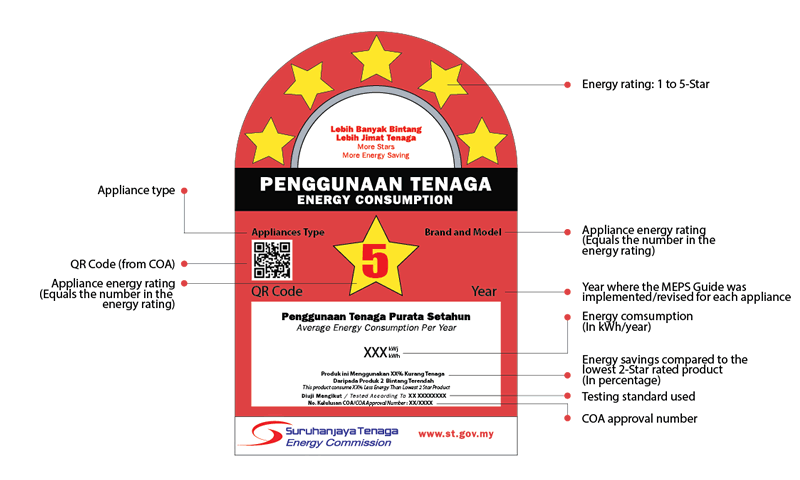 Air conditioners can be a big drain on your energy budget, so it's important to find one that is energy efficient.
Look for an air conditioner with the Energy Star label, which indicates that it meets or exceeds the government's energy efficiency standards. The more stars, the better. A 5-star rating is the best you can get.
Another thing to look for is the Cooling Seasonal Performance Factor (CSPF) and the Energy Efficiency Ratio (EER). Both of these should be as high as possible.
Size in BTU/HP
When choosing an air conditioner, you need to consider the size of the room it will be cooling. A unit that is too small will not be able to cool the room properly, while a unit that is too large will cycle on and off frequently, which can lead to increased energy use.
Generally speaking, you will need about 20 BTUs of cooling power for every square foot of space. So, if you have a 200-square-foot room, you will need an air conditioner with a cooling capacity of at least 4,000 BTUs.
Here is a table indicating what aircon size you should buy according to your room size (assuming you are in a hot climate – Malaysia with 8 ft ceiling height and average sun exposure).
Area (in Sq Ft)
Cooling Capacity (BTU/H)
Horsepower (HP)
Examples
100-200
4,000
1
10x10 Room, 14x14 Room
201-300
6,000
16x16 Room, 18x16 Room
301-400
8,000
20x20 Room
401-500
10,000
22x22 Room, Small living room
501-600
12,000
1.5
24x24 Room, Small living room
601-700
14,000
Master Room, Medium living room
701-800
16,000
2
Master Room, Medium living room
801-900
20,000
Big master room, large living room
901-1,000
22,000
2.5
Big master room, large living room
1,001-1,200
24,000
Big master room, large living room
1,201-1,400
26,000
3
Commercial space
1,401-1700
34,000
Large Commercial space
Smart Features
Many air conditioners come with intelligent features that allow you to control them remotely using your smartphone. If you want this convenience, choose an air conditioner with the appropriate technology.
R410A Vs R32
Air conditioners use a refrigerant to cool the air. The most common type of refrigerant is R-410A, but there is a new type of refrigerant called R-32 that is becoming more popular.
R-32 is more energy-efficient and has a smaller environmental impact than R-410A. If you are looking for an energy-efficient air conditioner, you may want to consider one with the R-32 refrigerant.
Extra Features
Some air conditioners come with extra features that can make them more convenient to use. These features may include a built-in timer, a remote control, an air purifier or an auto-clean function. If these features are essential to you, be sure to choose an air conditioner that has them.
Warranty
Most air conditioners come with a manufacturer's warranty, which covers defects in the unit. Be sure to read the warranty before you buy an air conditioner to make sure that it is covered.
Inverter vs Non-Inverter Air Conditioner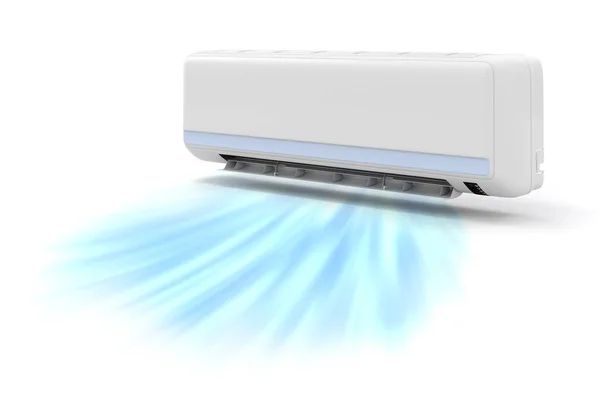 When choosing an air cond, one of the most important factors to consider is whether you want an inverter or non-inverter model. Inverter air conditioners are more expensive than non-inverter models, but they come with several benefits that can make them worth the investment.
Here are a few things to keep in mind when deciding whether to buy inverter or non-inverter air conditioners in Malaysia:
More energy efficient than non-inverter models. They use less electricity to run, leading to decreased energy costs over time.
Quieter than non-inverter models. They produce less noise when they run, which can be a major advantage if you're looking for an air conditioner that won't disturb your peace.
More durable than non-inverter models. They have a longer lifespan and are less likely to break down over time.
Inverter air conditioners come with several added features, such as temperature sensors and timers. Non-inverter models typically don't have these features, which can be a disadvantage if you want them.
If you wish to save more electricity bills, you can always get a stand fan or turn on your ceiling fan to circulate the air.
Should You Get a Smart AC?
A smart air conditioner is an excellent option for people who want to be able to control their air conditioner from anywhere in the world.
With a smart air conditioner, you can turn it on or off, change the temperature, and even set a schedule to turn it on and off automatically.
Smart air conditioners also come with a built-in thermostat, so you can control your home's temperature without having to use multiple devices.
If you're thinking about purchasing a smart air conditioner, here are a few things to keep in mind:
Not all smart air conditioners are created equal. Make sure you do your research and find one that is compatible with your home's Wi-Fi network.
Price can be a factor. Smart air conditioners tend to be more expensive than traditional air conditioners, but they often come with added features that can justify the price tag.
Aircond 101
How Do Air Conditioners Work?
Air conditioners work by circulating refrigerant through a system of coils. When the refrigerant evaporates, it absorbs heat from the air, cooling it down.
The cooled air is then circulated back into the room, creating a comfortable environment. In addition to their cooling power, air conditioners also help to remove excess humidity from the air. This can be a godsend during hot, humid days or in places like Malaysia, where humidity levels are high year-round.
By removing moisture from the air, air conditioners help to create a more comfortable environment and prevent the growth of mould and mildew.
The Important of Part Of Air Conditioners
The three most essential components of an air conditioner are the compressor, evaporator, and condenser.
The compressor pumps refrigerant through the system, while the evaporator absorbs heat from the indoor air. The condenser then releases the heat outdoors.
These three components work together to keep the indoor air cool and comfortable. However, without regular maintenance, they can quickly break down and stop working properly.
As a result, it is important to regularly have a qualified technician service your air conditioner. Do check out the comprehensive guide on air conditioner parts.
The Importance of AC Maintenance And How To Do It
An air conditioner that is not maintained correctly can be a health hazard. The compressor can become full of dust and dirt, leading to its overheating. The evaporator can also become coated with dust, which will reduce its ability to absorb heat from the air.
That's why it is so important to maintain your aircon unit properly to enjoy all of its benefits all year long.
Here are a few quick tips on how to keep your aircon running smoothly:
Clean the filters regularly.
Keep the area around the unit clear.
Keep the vents free of obstructions.
Check the coils regularly. If they get dirty, they will not be able to dissipate heat properly, which can lead to increased energy costs and decreased efficiency.
Make sure the unit is in a well-ventilated area.
Regularly vacuum the area around the unit.
Check out our full aircon maintenance guide here.
How Often Should You Service Your Air Conditioner?
In short, your should have your air conditioner serviced at least once a year. The best answer depends on a few factors, including the type of air conditioner you have and the climate where you live.
Service your air conditioner at least once a year helps to ensure that it's running efficiently and that there are no potential problems that could cause it to break down.
If you in Klang Valley, check out the best aircond service contractor in KL.
Common Problems
Why is the air conditioner leaking water?
One of the most common issues homeowners face with their air conditioners is leakage. In most cases, this is simply due to condensation from the unit's evaporator coils.
As the coils cool the air, they also remove moisture from the air. This moisture then condenses on the coils and drips into a drain pan.
However, if the drain pan becomes full or blocked, the water will leak out. Another possible cause of leakage is a refrigerant leak. If there is a hole in the evaporator coils or another part of the unit, refrigerant can begin to leak out.
This can cause water to form on the outside of the unit and drip onto the ground. If you notice your air conditioner leaking water, it is important to have it serviced. A qualified technician will be able to determine the cause of the leak and fix it.
Why is your air conditioner not blowing cold air?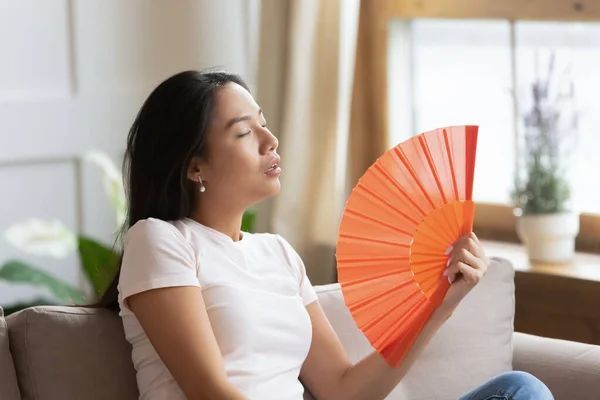 There are a few reasons why your air conditioner might not be blowing cold air.
Firstly, check the thermostat to make sure it's set to 'cool' mode. If it is, then the problem may be with the evaporator coils. These coils need to be kept clean in order for the air conditioner to work properly, so if they're dirty, it can affect the cooling process.
Another possibility is that the air filter is clogged and needs to be cleaned. A clogged air filter can restrict airflow and prevent the air conditioner from working properly.
Finally, low refrigerant levels can also cause problems. If the refrigerant is too low, it can't effectively cool the air, so your air conditioner won't be able to blow cold air.
Why do you need an aircon chemical overhaul cleaning?
All air conditioners need an occasional chemical overhaul cleaning to remove dirt, dust and other contaminants that can build up and cause the unit to operate less efficiently.
This type of cleaning helps remove all the dirt and debris from your air conditioner, restoring it to its original condition. In addition, it also leads to costly repairs.
It is important to have your air conditioner have a chemical overhaul cleaning occasionally to avoid these problems.
Aircon chemical overhaul is the process of cleaning and maintaining an air conditioner. It involves using chemicals to clean the various parts of the air conditioner, such as the coils, fan, and filters.
The chemicals used in this process are designed to remove dirt, dust, and other debris that can clog the air conditioner and cause it to work less efficiently.
In addition, the chemicals used in aircon chemical overhaul help kill bacteria and mould that can grow inside the air conditioner. As a result, this process can help to improve the efficiency of an air conditioner and prolong its lifespan.
Why is the air conditioner making noise?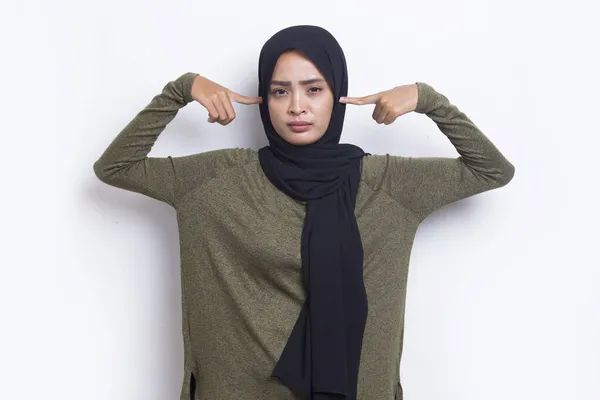 Air conditioners are often noisy, and there are several reasons why this may be the case. One possibility is that the unit is not installed correctly. If the AC is not level, it will vibrate and make noise.
Another possibility is that the refrigerant levels are low. When this happens, the compressor has to work harder, which can cause a rattling sound.
Next, the air conditioner may be dirty. A build-up of dirt and dust can cause the unit to overheat, leading to a loud humming noise. Some air conditioners are designed to be quieter than others, but all air conditioners will eventually make noise as they age.
The noise can be severe enough to cause headaches, sleep disruptions, and other health problems in some cases. If your AC is making noise, it's essential to have it checked by a professional to determine the cause and address any necessary repairs.
Final Thought
There are so many different types of air conditioners to choose from, but with our top 11 picks, you're bound to find one that suits your needs! Just remember that the higher the star rating, the more efficient and cost-effective it will be. If you have any questions or comments about this article, feel free to drop us a message.
Click here for other home appliances related articles.
This article was brought to you by BestAdvisor.my
Disclaimer: This is the opinion of the writer or publication. We only recommend products or services that we have tested and tried ourselves or have done in-depth research with positive external reviews and find them to be useful for everyone. The products/services shown are available upon the publication date. The availability may change from time to time. If some of them are not available, please email us at [email protected]. Thank you!
Last Updated on