12 Best Standing Fans in Malaysia
Stand fans are a type of home staple, and even though I have put off buying one as I am already happy with my air-conditioner. The need for one of these standing fans became a lot clearer when I received my last two electric bills. Maybe some of you might also just be looking for a new standing fan if you notice your current one making noises.
After researching different home electronics and the way they consume energy, I found out that the standing fans consume very little power, which has a minimal effect on electricity expenses. Here is a list of the best Malaysia stand fans that I have found.
Table of Contents
Aircon Comparison Table

Tips On How To Choose The Best Stand Fan
Best Stand Fan Brands Malaysia
FAQs
Stand Fan Comparison Table
1. Midea MF-16FS10N 16″ Standing Fan with 3 Speed Setting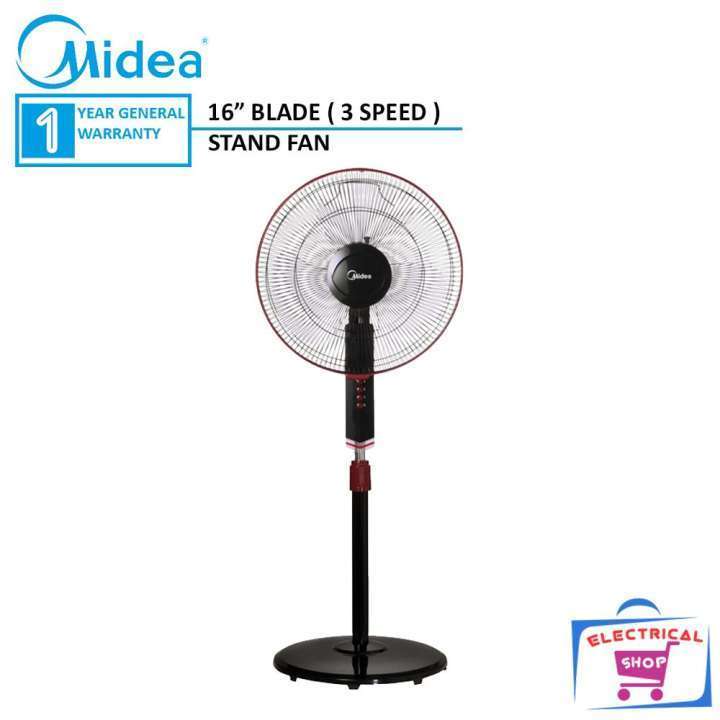 Powerful Motor
The Midea Stand Fan offers a broad flow of air across any room in your home. This fan features a very powerful motor, which makes it perfect for large areas. It is important to find a fan that can offer seamless and uninterrupted air-flow, without overheating, or breaking down on a really hot day. The Midea is one of the most reliable standing fans in Malaysia that you can purchase online here.
Pros:
Multi-color pedestal fan
Power consumption of just 50 watts
Auto-swing function
Three speed settings
1 year warranty
Cons:
Needs to be installed very securely to make it stable enough for long-term use.
Check prices on Shopee
Check prices on Lazada
2. Hiraki Fs40-A520 16″ 5 Blade, 3 Speed Standing Fan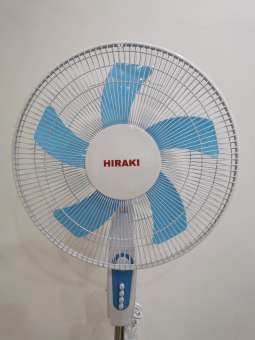 Best for Night Use
The 16″ Hiraki stand fan, seems to be the best height when it comes to stand fans for most of the homes in Malaysia. The blades are available in an assortment of colors, making it easy to find a color that matches up perfectly to your home. This Hiraki stand fan also operates relatively quietly, which is great if you plan to use the fan at night. Get this fan, online on sale right here.
Pros:
Three-speed setting
Oscillation control
Adjustable height
5 blade
1-year warranty
Cons:
Design does not look sleek enough to blend in some home interiors. Other than this, this is a great performing fan.
Check prices on Shopee
Check prices on Lazada
3. Panasonic Stand Fan F-MX405 16 Inch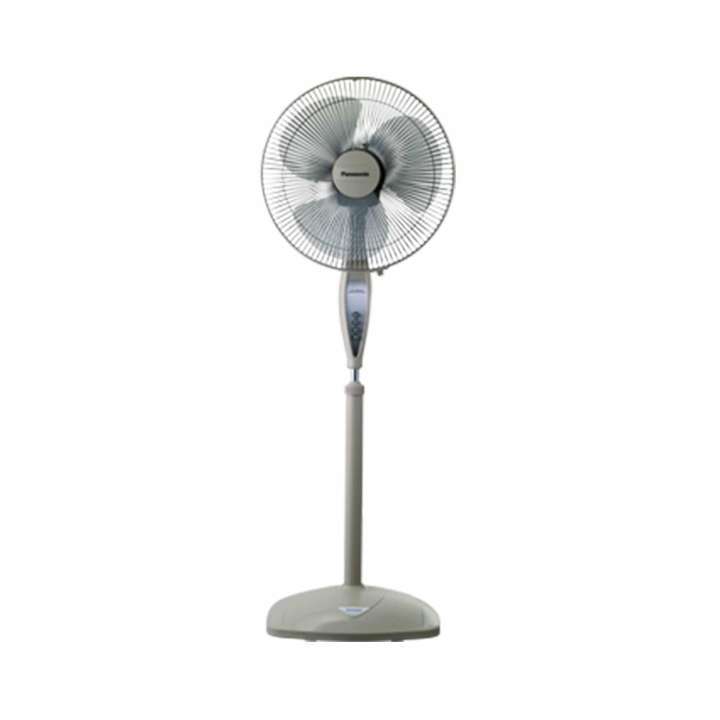 Elegant and Sleek
I am really impressed by the elegant and sleek design of the Panasonic Standing Fan. The neutral color means it matches up to most of the home interiors. It is also said to be highly energy-efficient. What makes this stand fan even more worthwhile is its timer feature. The transparent plastic blades really add to the visual appeal of this product. Get yours now at a discounted price right here.
Pros:
Automatic oscillation
5-star energy rating
Thermal safety fuse
Condenser motor
1-year warranty
Cons:
Quite expensive for a stand fan.
Check prices on Shopee
Check prices on Lazada
4. Toshiba Stand Fan 5 Blade F-LSA10 / F-LSA10(W)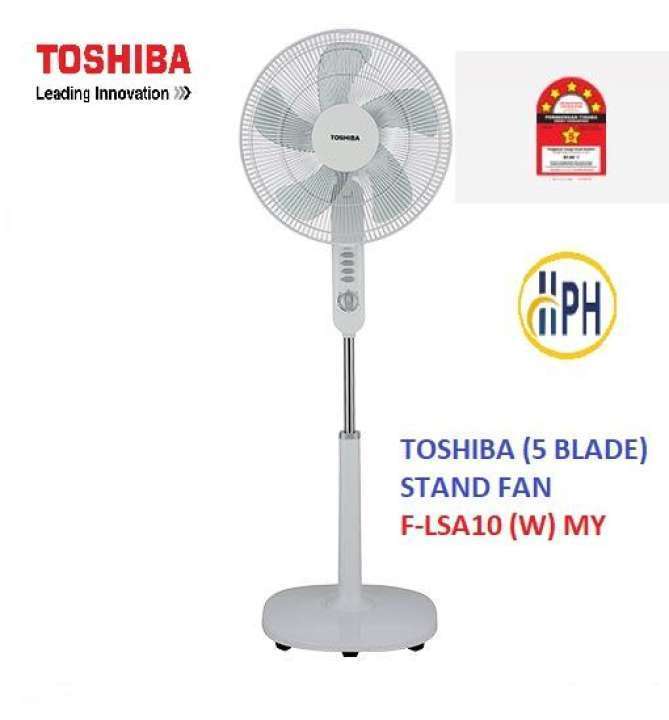 Comes with Timer
When considering home electronics, Toshiba is among the most trusted brands, so this makes this device a simple choice. This standing fan has a timer which is an important feature if you prefer to fall asleep with your fan on. Get your fan in Malaysia now before stocks run out. It is made from 5 ABS Blade, the reason why you get to enjoy a better air flow with this model.
Pros:
Timer control
1-year warranty
Adjustable oscillation
Five-star energy rating
Cons:
Definitely not the most quiet fan in the market
Check prices on Shopee
Check prices on Lazada
5. Pensonic Standing Fan Grey PSF-45 16″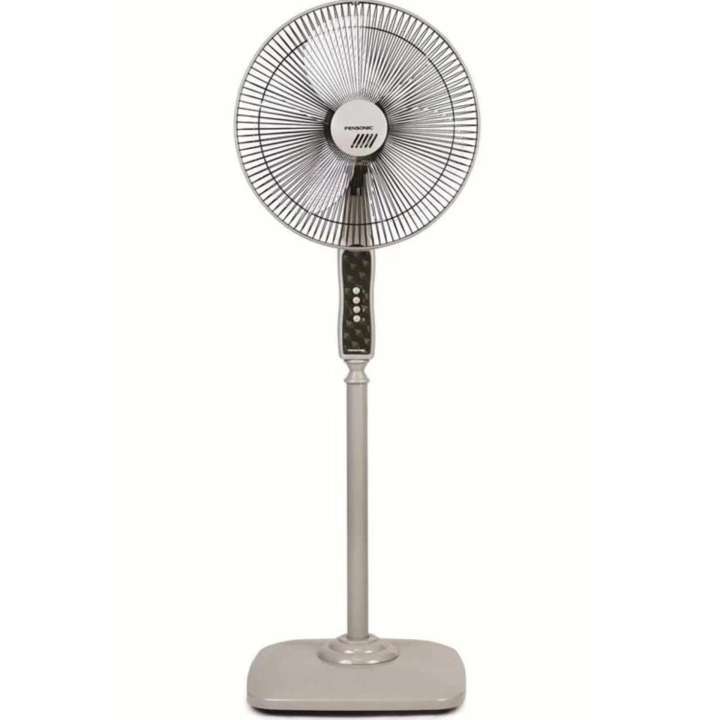 Efficient and Comfortable Airflow
If you enjoy stylish add ons for your home, you will enjoy this grey Pensonic stand fan. It also comes with an impressive sturdy base. The airflow is comfortable and efficient, and it comes with all the necessary safety features.
Pros:
Adjustable height
16-inch blade
1-year warranty
Three-speed settings
Cons:
Some users complain of a plastic smell during their first few uses.
Check prices on Lazada
6. KDK Stand Fan Kx405 16″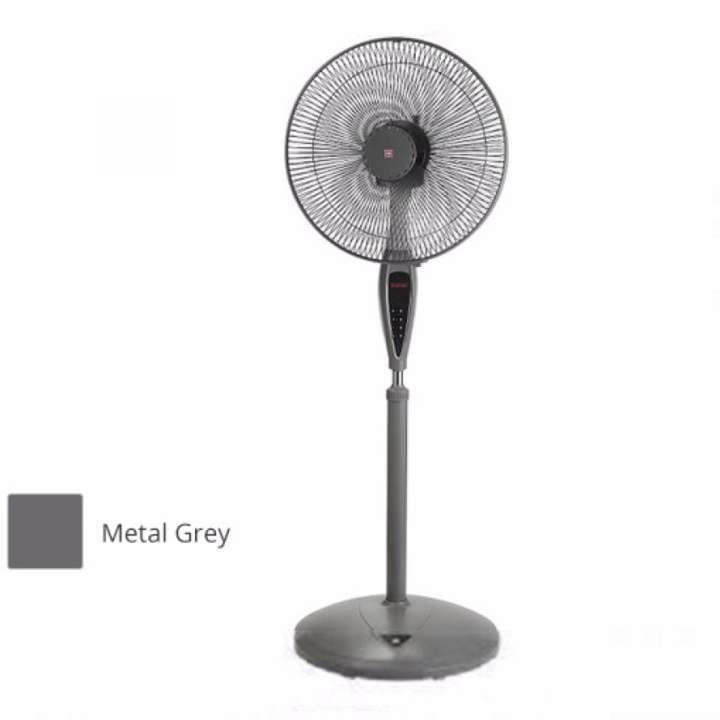 High-Quality Material
With an easy-to-understand instruction manual, the KDK is a trusted and reliable choice. Installation should take you under 30 minutes and you get to enjoy the high-quality materials associated with this brand. It comes in various colors to choose from, making it easy to find one that matches up to your style and decor.
Pros:
Multicolor pedestal fan
50 watts low-power consumption
Auto-swing function
Cons:
A bit expensive compared to similar models with the same features.
Check prices on Shopee
Check prices on Lazada
7. Midea MF-16FS15F 16 Inch Standing Fan With Timer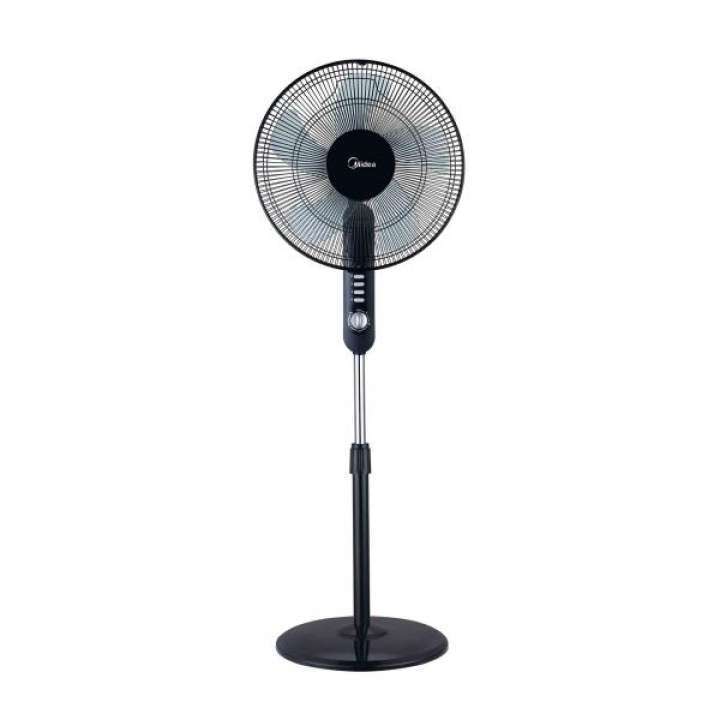 Broad Air Flow
This fan guarantees comfortable and broad air-flow across any room. It also features a robust motor, which makes it perfect for larger areas. We think it is important that fans are able to provide an uninterrupted and reliable airflow without breaking down or overheating when you really need it. Midea is one of the most reliable stand fans in Malaysia and you can get one right here.
Pros:
Multicolor pedestal fan
50 watts low-power model
Auto-swing function
Timer
Cons:
Not the most space efficient among the stand fans here
Check prices on Shopee
Check prices on Lazada
8. Pensonic Stand Fan PSF-4504BG (Beige) and PSF-4503BK (Black)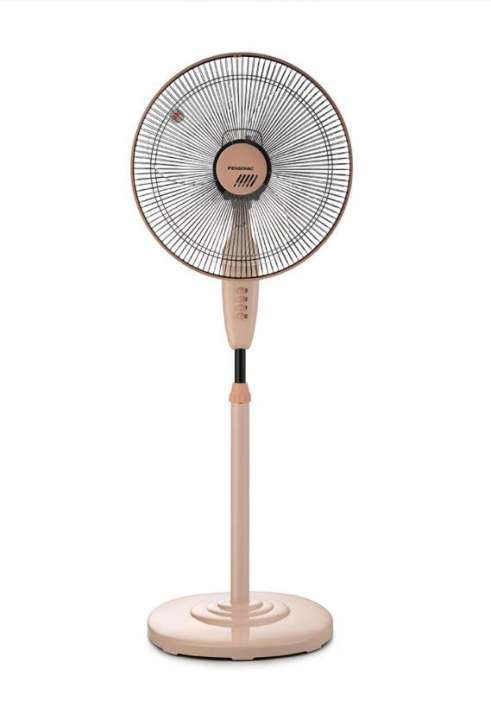 Dainty and Delicate
If you enjoy dainty and delicate add ons for your home, you will really enjoy the Pensonic beige fan. The base is also very sturdy. We really enjoyed the comfortable and efficient air-flow that this fan produces. It also comes with the necessary safety features that are expected from stand fans in Malaysia. Buy yours online right here.
Pros:
3 Speed Settings
Adjustable height
A round base and stable support
Cons:
Quite a struggle to adjust its height.
Check prices on Shopee
Check prices on Lazada
9. Crown Industrial Heavy Duty Fan 18 Inch 1501001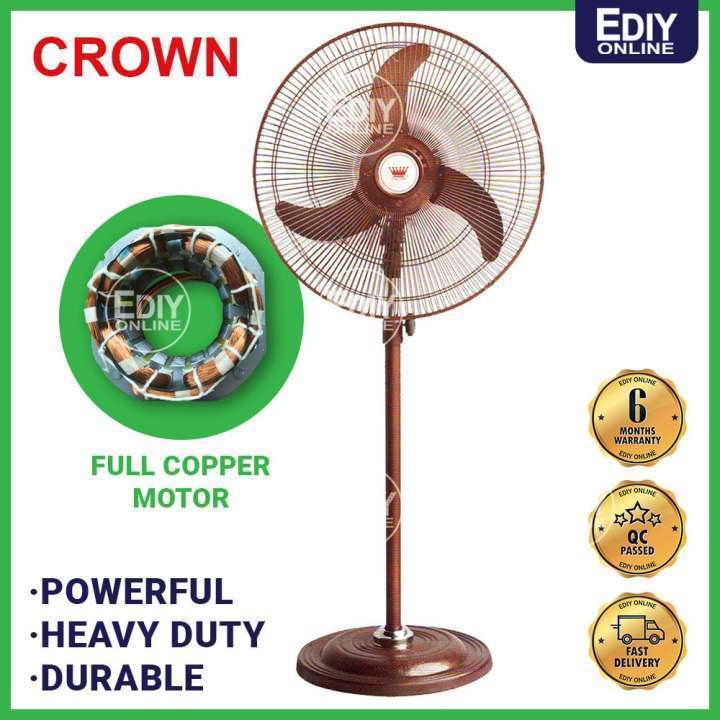 Tall and Heavy Duty
If you are looking for a taller standing fan, Crown Head is the right brand for you. These heavy-duty fans are made to deliver a far more efficient and stronger airflow even in large spaces. The strong airflow from a fan is a fantastic relief on those humid and hot days or nights, especially in areas with little ventilation such as a warehouse or factory. If you love the idea of a heavy-duty fan, get your Crown Head here.
Pros:
Adjustable tilt head
Heavy-duty stainless steel blades
Anti-overheating feature
Cons:
As expected from industrial fans, this one can be definitely noisy for home use.
Check prices on Shopee
10. Houm 4 Blade M16 M-Series 16-Inch Standing Fan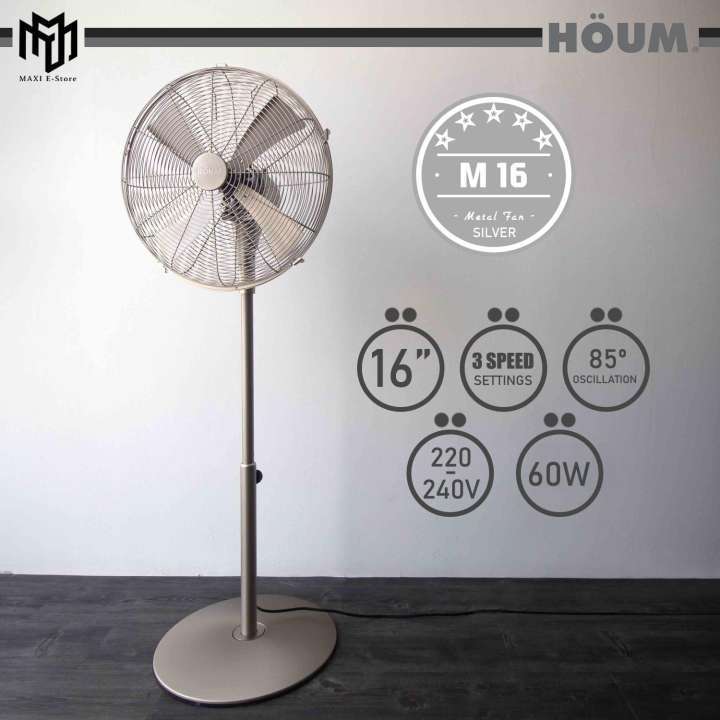 Compact Version
Even though this fan only features 4 blades it still delivers exceptional quality and efficiency just like their M16 fan. This is one of the more compact versions of a standing fan, and we noticed that this brand didn't compromise when it came to the features. Buy your fan here.
Pros:
3-speed control
Metal body
Oscillating and tilting feature
Even and strong air distribution
Cons:
Local servicing can be quite difficult to find in Malaysia
Check prices on Shopee
Check prices on Lazada
11. Khind Stand Fan 14″ SF141 Antique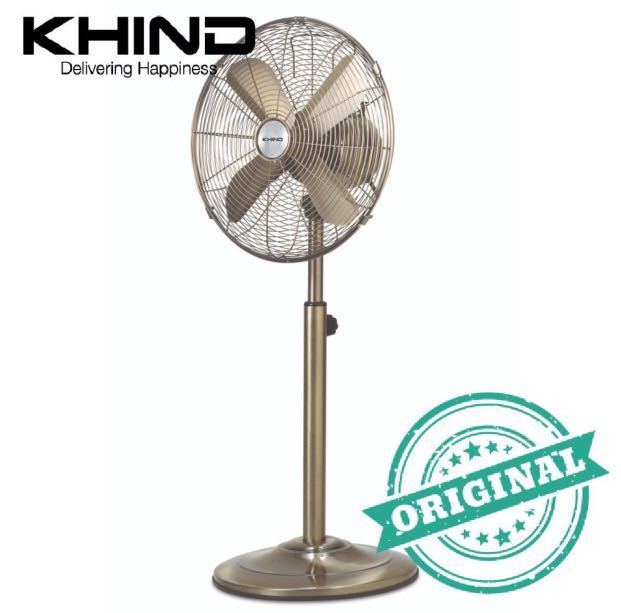 Safety Thermal Fuse
Known widely for its unique selections in colors, Khind has considered consumer safety. Every fan features a safety thermal-fuse that stops the fan from overheating. When it comes to efficiency and quality, Khind offers reliability you can trust with its quieter operation combined with well-distributed airflow. This product is currently on sale right here.
Pros:
Adjustable height
3-speed setting
High-quality metal body
Cons:
Not ideal to be carried/transferred around the house because of its weight.
Check prices on Shopee
Check prices on Lazada
12. Mistral 16″ Stand Fan MSF048R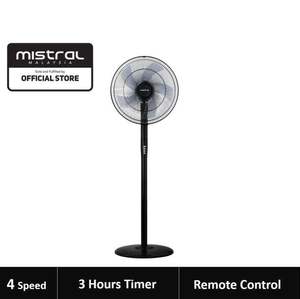 Energy Efficient
The Mistral 16" Stand Fan MSF048R offers a variety of features to help keep you cool. It has five speeds to choose from, and five ABS fan blades that provide powerful air circulation. The fan also features three modes- normal, sleep, and natural- so you can customize your experience. Additionally, the MSF048R comes with a seven-hour timer to set the fan to run for a specific amount of time. Finally, it has convertible height so you can adjust it to fit your needs.
Pros:
5-star energy rating, guaranteed to save you some money
Up to 5 speeds to choose from
Timer-enabled
Cons:
Quite a struggle to adjust the height.
Check prices on Lazada
Tips On How To Choose The Best Stand Fan Malaysia Model For Your Home
Today, standing fans are more affordable than ever, making it easy to buy just the right one for your home. In comparison to wall and ceiling fans, these fans are easy to install, without the need to make permanent changes to your home or damage your walls or ceilings by drilling holes to accommodate the fan. It also delivers more airflow compared to a tower fan. Tower fan usually uses for smaller spaces or rooms.
When it comes to choosing the right stand fan in Malaysia, you need to consider the area that you want airflow in. In most cases, the 16″ 5-blade fans are more than enough when it comes to ventilating small bedrooms. If you require a stronger airflow, especially for an outdoor area, the industrial heavy-duty fans are far more efficient and provide more than enough airflow, a fan with slow speed won't suffice. Make sure you are familiar with how stand fans work.
Best brands of Stand Fan Malaysia
Panasonic was established in 1918 by Konosuke Matsushita as a vendor of duplex lamp sockets. Over the years, it has grown and is currently one of Asia's biggest consumer electronics companies. The Panasonic brand encompasses everything from batteries to home appliances such as air conditioning units and microwaves to televisions, DVD players , camcorders and laptops .
Khind Malaysia
Khind Malaysia started operations in 1983 and has since expanded to eight different countries including Singapore, Indonesia and Thailand. Khind is specialised in the design and manufacture of high quality fans . It aims to provide innovative designs at affordable prices by keeping production costs low.
KDK
KDK is the short form for Kawakita Denki Kigyosha, which is the brand name, used by Panasonic Ecology Systems Co. Ltd. (Headquarters in Kyoto, Japan). The company is known for their Indoor Air Quality (IAQ) technologies.
Conclusion
It can be tough to keep cool in the summer, especially here in Malaysia. But with the right fan, you can beat the heat and stay comfortable all season long. We've put together a list of the 12 best stand fans in Malaysia so that you can find the perfect one for your needs. Whether you're looking for something compact that won't take up too much space or a powerful model that will circulate air throughout your entire home, we've got you covered.
FAQs
Why should I buy a stand fan? 😃
Stand fans has been a staple for every home. They consume very little power and still provides comfort
How much does a standing fan cost?
The cost of a standing fan usually starts at 80 RM, depending on the brand and model
What are popular stand fans in Malaysia ? 🤔
Some of the popular brands are Midea, Panasonic, Toshiba, Pensonic, and Khind.
Click here for other home appliances related articles.
Latest posts by Aaron Tan
(see all)
This article was brought to you by BestAdvisor.my
Disclaimer: This is the opinion of the writer or publication. We only recommend products or services that we have tested and tried ourselves or have done in-depth research with positive external reviews and find them to be useful for everyone. The products/services shown are available upon the publication date. The availability may change from time to time. If some of them are not available, please email us at [email protected]. Thank you!
Last Updated on